Princess Eugenie shared a pic taken years ago of her and adorable mom Sarah enjoying the snow
As the snow hit England this past week, it brought back some fond memories for Princess Eugenie as she posted a throwback picture.
On February 1, Princess Eugenie took to Instagram with a childhood snap from a ski trip many years ago taken of herself and mum Sarah Ferguson, donned in warm winter ski gear.
Eugenie wrote a plain caption to the picture that took her down memory lane:
"All this snow got me remembering how cool mum and I were in the 90s #flashbackfriday @sarahferguson15."
The Princess enjoys the winter sport and had been on numerous skiing trips with her parents and sister, Princess Beatrice. Much like the family skiing trip in Klosters, Switzerland in 1992 where the throwback picture got taken.
After all, it's on a skiing trip to an exclusive ski resort in Switzerland that Princess Eugenie met the love of her life, Jack Brooksbank whom she married in 2018. The couple returned to the same resort for a holiday with Prince Andrew in January 2015, where Eugenie's parents still own a million-pound chalet.
However her mother, Sarah Ferguson snapped at reporters during a recent event when she got asked about rumors that Princess Eugenie is pregnant. According to the Daily Express, Sarah didn't fancy the conversation topic and cut them off short as she said:
"Oh don't be ridiculous. I'm sorry you should not have asked this."
Rumors spread over the last few weeks that Princess Eugenie and Jack have a baby on the way. Betting odds on the newlyweds announcing that they are expecting dropped to a record low.
As for Sarah Ferguson, she didn't want to talk about the subject and nipped it in the bud without fanfare. But she may have gone on a trip down memory lane herself, as Sarah revealed why she wore the striking hat to her daughter Eugenie's wedding that caused so much media attention.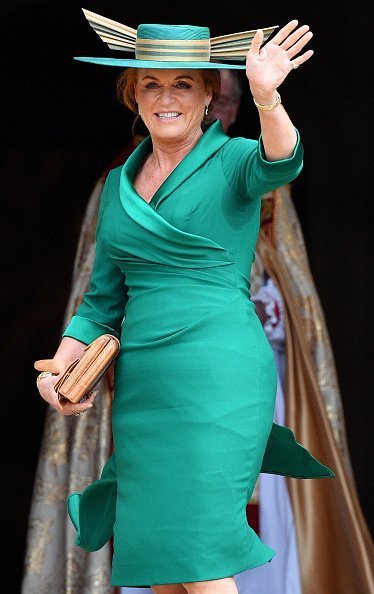 Sarah wore a striking outfit to the wedding, paired with an unusual hat and told 'Good Morning Britain' on November 21, 2018, the reason behind her choice of outfit and said:
"When you've got a #RoyalWedding at 11, but Harry Potter has to catch you to win a Quidditch match at 2."
The Duchess of York also joked about the 'Golden Snitch' comment passed about the unusual hat as she told the 'Good Morning Brittain' host:
"We love the Golden Snitch, but I hadn't realized that until afterward! There's always something I do!"
Sarah elaborated on why she chose the specific style of hat. It featured a flat crown, and a straight, broad brim for it reminded her of a classic Spanish style hat, which she wore in tribute to her late mother who lived in Argentina for many years.
Perhaps Princess Eugenie and Jack are enjoying some quiet time together before they start a family.