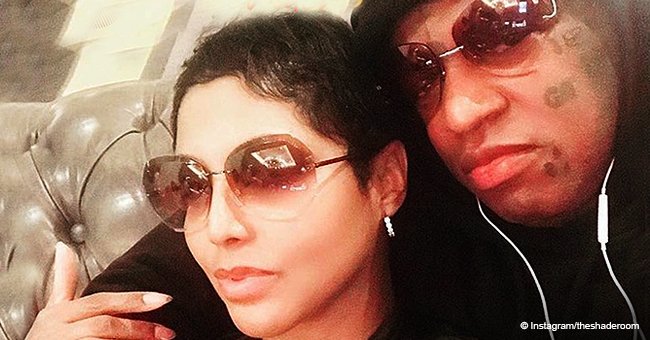 Birdman sparks reconciliation rumors after sharing pic snuggling with Toni Braxton
Birdman professes his lifelong love for Toni Braxton as he posts a photo hinting at a reconciliation.
Weeks after he and fiancé Toni Braxton ended their engagement, Birdman is dropping clues to a possible reconciliation. First, the music producer surprised the singer showing up in her concert, and more recently, he professed his love for her on social media.
ON THEIR RUMORED BREAKUP
Braxton shocked the world at the start of the year when she hinted at her breakup with her fiancé of almost a year. She posted a cryptic message revealing she was "starting a new chapter." Fans would also learn from Birdman in an Instagram story that, indeed, "It's over…" He cleaned up his IG account of all their photos, a move Braxton likewise did.
ON THEIR ENGAGEMENT
Braxton and Birdman announced their engagement in February 2018 after being friends for 17 years. In the past months, the singer has been very vocal about their problems in setting a wedding date due to their busy schedules. Birdman even gave her an ultimatum to pick a date by the end of 2018. However, that didn't seem to be the case with their engagement off the table by the start of the New Year, a decision Birdman seems hesitant to accept.
ON A POSSIBLE RECONCILIATION
In a surprise move a few weeks later, the "Cash Money" producer showed up at Braxton's concert in Atlanta. Braxton seemed pleased and even hugged him on stage before walking off with him. This sparked rumors of a rekindled romance.
Moreover, Birdman recently posted a photo of them cuddling and wrote "4Life @tonibraxton". Neither has commented on rumors of their reconciliation but their photo and Birdman's caption certainly suggest it.
In the pic, the singer is in front of her ex-fiance who circles one arm around her. Braxton places her hand on that arm as she leans on him. Both are dressed in black and in matching light-colored sunglasses. Judging from the snap, it's clear the two are still comfortably close.
ON FANS' REACTION TO THEIR REKINDLING
Fans were conflicted with the development. Some appreciated it and took their views to the comments section of The Shade Room which reposted the pic.
"I love them together."
"But they look so goodt together"
"Go birdy the heart wants what the heart wants."
"Here for it!
However, there were also those who expressed their distaste for what seemed to them an "odd couple."
"I still don't know how these two are together. This has to be a business decision."
"The oddest couple ever!!"
"So weird to me"
"Never really was rooting for this odd couple."
ON WHAT THEY LOST AND DIDN'T
Fans may not like it but there seems to have been no love lost between Braxton and Birdman. The only thing that was lost was Braxton's engagement ring. She admitted she lost it during a flight. She placed the ring inside a train case that she accidentally left when she disembarked from the plane. The bag was gone when she returned for it.
At the time that she lost the ring, Braxton was still engaged to Birdman. She explained that the reason she took it off was the swelling she would get from it due to her Lupus. It's no secret the 51-year-old songstress has been living with the condition since she was diagnosed with it while married to her ex-husband Keri Lewis. She even revealed it may also have been instrumental in the demise of her marriage which ended in 2013 after 12 years.
Meanwhile, Birdman has been very supportive of the singer and her plight, having been friends with her for almost two decades. In 2016, he visited her every day for 22 days while she was suffering from the effects of her sickness. This endeared he more to him.
With a decades-long history and their obvious affection for each other, it would be a shame if these two don't get back together. Here's hoping that the rumors turn out to be true.
Please fill in your e-mail so we can share with you our top stories!