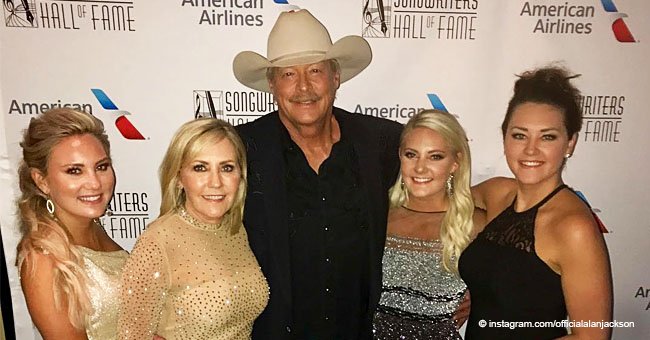 Alan Jackson is a proud father of three gorgeous daughter - meet all of them

Alan Jackson has had a long and successful career. Thanks to the songs he's written and performed, Jackson carved out a permanent place in the country music history.
Jackson has a long list of achievements too, including two Grammy awards. He has recently been inducted into the Country Music Hall of Fame and the Nashville Songwriters Hall of Fame.
However, if you were to ask the Country music star what he was most proud of, he'd probably say his three beautiful daughters.
If you didn't know, the three girls who played his daughters in the music video Driver were played by his actual daughters.
Mattie, 26, Ali, 23, and Dani, 19, all have their own interests. Mattie is a certified sommelier who owns a wine bar in Nashville.
Allie and Dani are only just beginning their journey in the world. Ali is effusive in her praise for her dad who can rest assured that they appreciated every effort he made to guide them.
According to Allie, Jackson is seen as a great musician and an impressive songwriter by his fans. But she sees him as her best friend.
She said he is the "guy that taught [her] that how you treat people matters more than anything else, and that he also taught her to stand on her own two feet. She added:
"You're every daughter's dream father. Thank you for raising us in a house filled with Jesus and music, and always making sure we knew whatever our dream was could be our reality."
When Dani eventually leaves for college, Jackson and his wife Denise will have to deal with their empty nest.
However, it will give Jackson some more time to spend on his passion – restoring classic cars. Jackson also has his private pilot's license but doesn't fly anymore at his wife's insistence.
She's worried about his safety in the air. Perhaps she'll allow him to come out retirement now that they'll have more time to themselves.
The couple is still as much in love today as when they wed, and Jackson wrote several songs about their love and their relationship.
His most famous Denise-inspired singles are She Likes It Too, and Remember When. Denise also made an appearance in Remember When's music video.
Jackson regularly pays tribute to his wife in the sweetest ways. During a concert in 2007, he told the audience he wanted to introduce someone special to them, and invited Denise to join him on stage.
Fans of Jackson can look forward to his upcoming album, which is scheduled to be released in 2018. One track from the album, The Older I Get, was released to the public in October 2017.
Back in May 2018, the couple sold their 135 acres Sweetbriar Estate in Tennessee for $28 million before moving to Nashville.
Please fill in your e-mail so we can share with you our top stories!