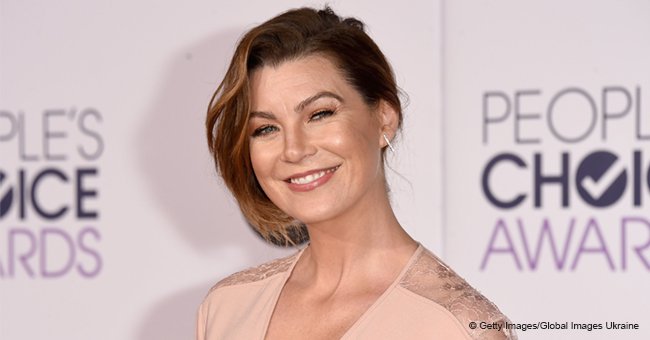 Ellen Pompeo shows off her dance moves during 'on set antics' – video gets 4,000,000 views

Grey's Anatomy stars Ellen Pompeo and Giacomo Gianniotti posted a hilarious video of themselves dancing to the beat of the last single of Grande's new album, "Thank U, Next".
The actors took a break from the filming of the next scene of MerLuca and decided to record a video in which you can see Pompeo dancing around her partner and singing along with "Break Up With Your Girlfriend, I'm Bored" of Grande.
When the chorus of the song starts to play, Gianniotti joins the fun and gives the camera his best dance moves. Pompeo then shared the video on her social media and subtitled it "Sometimes ... on set antics make you channel @arianagrande you're welcome."
The video was filmed by their friend, Sam Hellmann and it got more than 4,000,000 "likes" in just three days, of course, this was not missed by the pop singer, who commented on the video "HELP ME JESUS".
However, Grande did not make that comment with the intention of making fun of the actors of Grey's Anatomy, on the contrary, the singer is considered a great admirer of the ABC drama series.
A few hours later, Grande posted the video of Pompeo and Gianniotti on her own Instagram account and wrote: "guys if i'm honest ......... this is the best thing that ever happened to me. @ellenpompeo I love u sm I can't breathe, I'll never be the same".
And of course, the duo of actors could not have felt more praised by the words of Grande. So, Pompeo decided to return the dose of love to the singer and responded to the caption by saying: "you did it again ... it's a banger."
Pompeo does not just stand out for her participation in the television drama of ABC, Grey's Anatomy; she also stands out in her family life to be the proud mother of three children. Yes, she has three children in real life as well as her character in the series.
Although it is necessary to clarify that Pompeo's family situation in her personal life differs greatly from that of her character. If you want to take a peek at her family, just follow our other articles about the actress.
A new video of Pompeo's daughter, Sienna, showcases a common trait between mother and daughter- their infectious laugh.
The adorable Sienna sings and dances all the time, and she even has a cute laugh. A recent video of the four-year-old has her mother in stitches as she fouls up one word she's asked to say.
It's clear the little girl is pulling her mother's leg and Ellen can't help but be amused at her daughter's playfulness.
Please fill in your e-mail so we can share with you our top stories!