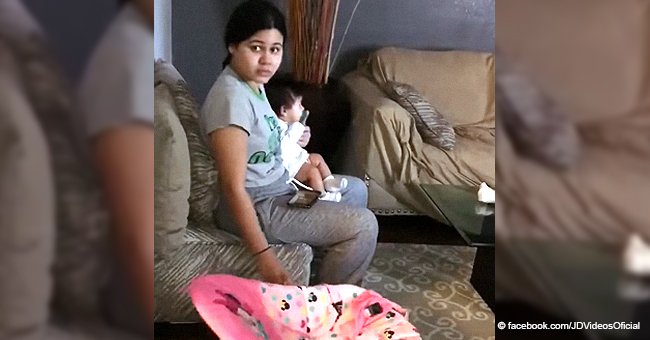 Husband caught wife holding their baby in her arms while continuing to push the rocker

Becoming a parent is a unique moment for the human being but it can be difficult, this mother was somewhat distracted and her carelessness made her viral on social media.
Social media is home to all kinds of things, videos, writings, photos and more. In this scenario, the video starred a tired mother who became popular because of a funny incident and her hilarious reaction.
The mother, the baby, and the father participated in the video, which is a reminder that not all carelessness with children is synonymous with frights and worries, this time it was just really funny.
It was an ordinary night at the family's home, the woman watched television with her baby on her legs and the father is not seen in the picture, the husband noticed that his wife was tired so he was pending in case she would need help.
Dad saw that something funny could happen, so he decided to record the moment waiting for something to happen, that is, the man captured the moment on video when his tired-faced partner watched the television and rocked the baby's rocker at her side.
The man, seeing the funny moment that was happening, said to his wife, "What are you doing?", To which the woman replied, "Who, me?", To which her partner replied, "Have you lost your mind? ", until the woman understood that she was rocking the baby chair without the baby inside it, and she had her on her legs.
FUNNY MOMENT
The video went viral mainly because of the woman's reaction upon noticing her carelessness, she breaks into laughing without stopping, those who watch the video on Facebook can't help but laugh too. Other social media have been also part of the viral success of the clip.
The apparently young mother was the target of criticism by some who claimed that she was too tired to have the baby on her arms, this could cause an oversight where the woman could lose balance and the baby would end up on the floor.
However, that did not happen and what was left was a hilarious moment thanks to the father, the video has more than 400 thousand views and countless comments. Another fun time to observe between mother and son is when Wes Ryan and his mother, Julie, both have raised the bar of mother and child dances.
In another story, a barbershop owner had a run in with the police after he joked about feeding his baby son hot sauce. The comment has since been deleted.
However, Mirror reports that the 39-year-old Paul Dawson shared how his son sucked his knuckle after he ate hot wings.
Please fill in your e-mail so we can share with you our top stories!