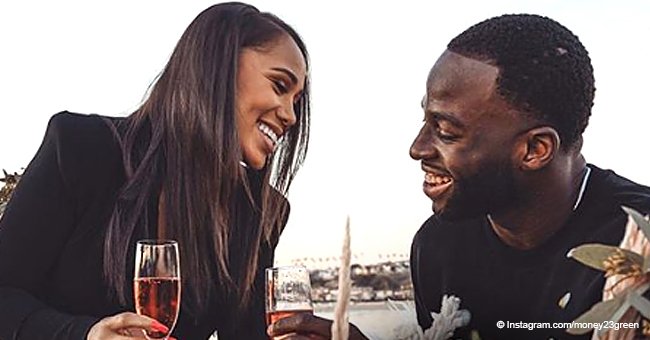 Draymond Green proposed to girlfriend Hazel Renee with 6-carat diamond ring reportedly worth $300K

It's no secret that Draymond Green popped the question to his girlfriend Hazel Renee last month, but new details have revealed how extravagant his proposal actually was. It turns out, the Golden State Warrior actually purchased a 6-carat diamond ring worth $300,000 to give to his girlfriend.
While little was known about Draymond Green's proposal to "Basketball Wives" star Hazel Renee, TMZ confirmed all the juicy details about the recent engagement. In true baller fashion, it involved a helicopter, a yacht, and of course, a sparkling diamond ring worth hundreds of thousands of dollars.
The ring was designed by Jason of Beverly Hills, and it turns out Draymond was very involved in the design process and completion of the ring.
"I took multiple trips up to the Bay to show him stone options and to choose the setting. He was very particular about the quality of the center stone. He wanted only the best for Hazel."
In a recent Instagram post shared by Hazel, she shared a behind-the-scenes video of the day they got engaged, where she was flown in by helicopter to a yacht that had all the special people in hers and Draymond's lives waiting for her arrival. She then shared a video of the couple enjoying the special dinner onboard the yacht, and lastly, a photo of her sparkling square-cut ring.
Green's engagement to Renee was first revealed by his head coach, Steve Kerr. He said that the weekend the team had in Los Angeles was a busy one for the couple, as they did get engaged. The topic opened up when a reporter asked about how the extended Los Angeles road trip went for their team.
"The time's been great. A nice change of pace during the middle of the season, especially in mid-January. Beautiful weather here and a lot of guys have brought family members. Draymond got engaged. A lot of great stuff."
Now that the cat's out of the bag, Kerr won't have to worry about sharing things that have yet to be announced by the people involved. After all, everyone now knows that Draymond and Hazel are set to get married sometime soon.
Please fill in your e-mail so we can share with you our top stories!