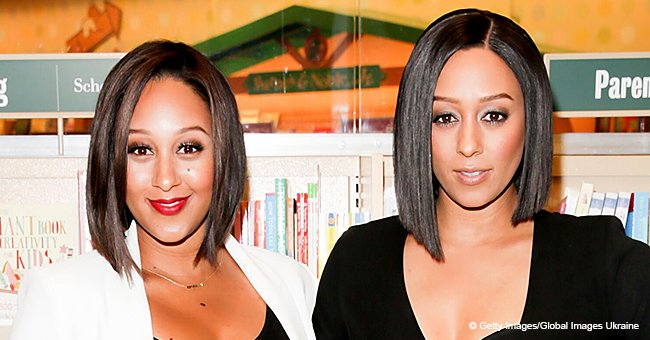 Tia Mowry sends sister Tamera her breast milk after revealing she's sick & desperate for healing
Tamera Mowry was not feeling well. "Drink some breast milk," said twin Tia. So drink she did, and she loved it!
Throughout the years, TV's favorite twins Tia and Tamera Mowry have shown that they have a special bond. Even as adults living in different parts of California with busy lives, they still remain close. Perhaps too close, if Tia's latest video is anything to go by.
Tia took to social media to share that her twin is "sicky poo," which probably explains her recent absence on "The Real" where Tamera is a co-host.
According to Tia, her sister was desperate for some healing. Ever the caring sibling, Tia sent her literature on the supposed healing properties of breast milk, along with some of her expressed "liquid gold." Tamera's reaction was a sight to behold.
During her last appearance on "The Real" before she fell sick, an emotional Tamera opened up about her fears concerning mass shootings after her niece died last year.
While the co-hosts were discussing the recent shooting scare that took place at a San Francisco performance of "Hamilton," the mother of two broke down in tears as she talked about being a "gun survivor."
"I learned that when you are a victim of gun violence – or you've experienced it – you are a gun survivor in the sense that every day, I live with anxiety. Every day I live with fear," confessed Tamera.
She went on to describe how her anxiety kept her from attending church for two months and made her fearful of going to work every day.
THE LOSS OF HER NIECE
On Nov. 8, 2018, a Twitter user posted photos of her missing suitemate following news of a shooting at a California college bar.
"My suitemate is still missing, she is wearing denim shorts, a blue flannel and sneakers, pls let me know if you know anything," tweeted Ashley.
"Ashley this is her aunt Tamera Mowry Housley. Can you please DM me your information?" replied the "Sister, Sister" actress.
Ashley's suitemate was Pepperdine freshman Alaina Housley, niece to Tamera and her husband, former Fox News correspondent, Adam Housley.
Adam and Tamera started searching for Alaina. She and several of her friends had gone to Borderline Bar & Grill which was hosting a college night for country music fans, according to People.
At least 12 people died after a gunman opened fire inside the venue. Alaina was one of them.
"Our hearts are broken… Alaina was an incredible young woman with so much life ahead of her and we are devastated that her life was cut short in this manner," said Adam in a statement to People, confirming the death of his 18-year-old niece.
THE LOSS OF HER GRANDMA
Barely 2 months after the tragic shooting, Tamera was dealt another sad blow – the death of her Grandma Clo. Early January, Tamera shared a photo of herself holding hands with her grandma.
"You are the matriarch of our family. Every good thing trickles down from you. You amaze me every day with your strength and unconditional love," she wrote in the caption, ending it with "#cancersucks."
Grandma Clo lost her battle with cancer a day later. To commemorate her life, Tamera shared a photo of herself and her grandma on her wedding day along with a touching tribute. "Your great-grandchildren, Adam and I miss you so much. I love you love you. Till we meet again," wrote the mom of two.
"Our family's been through a lot," remarked a tearful Tamera when she returned to "The Real." But the interesting thing about grief is that you've got to find the balance of moving forward and grieving at the same time."
We hope Tamera finds the courage and strength to move past her fears and anxieties.
Please fill in your e-mail so we can share with you our top stories!