Indy Feek turned 5 and she had the most adorable birthday party ever
It was a friendly atmosphere on social media for the little celebrity daughter of country music star, Joey Feek when Heidi Feek, her older sister took to her Instagram page to share a lovely photo of cute Indy Feek on her birthday.
In the post, Indy who became 5, had a princess-themed birthday and was dressed as a miniature Rapunzel while standing in front of the animation character. 
In the photo which was captioned "bbrepunzel turned five today" with two emojis showing lovely emotions, Indy wore an adorable grin which spoke volumes about the little girl's happiness.
The award-winning duet and couple, Rory and Joey Feek became parents to a sweet baby girl who they named Indiana Feek in 2014. However, Rory became a single parent in 2016, losing Joey after a long battle with cervical cancer. 
The father-of-three couldn't hide his pain at losing the love of his life. Even after six months, he found it hard to come to terms with Joey's death as he told CBS News "She's really not here? She's really not coming back?"
Too sad, but life goes on.During her fourth birthday, Rory who hadn't posted in two months, took to his blog as he showed off his baby girl while he expressed his joy over her progressive growth despite having Down syndrome. Feek also took time to make reflections concerning late Joey whose passing became two years at the time.
"Indy turned four-years-old…and she's walking and talking so well and is so kind and so sweet…I think Joey would be so proud," he penned.
Rory never fails to impress the Rory + Joey fans as he regularly showers love and undiluted attention on his daughter.
At his niece's wedding, the previous year, Rory shared a video of him and Indy in a heart-warming father-daughter moment. He dressed Indy up as a bride while she became the cynosure of all eyes.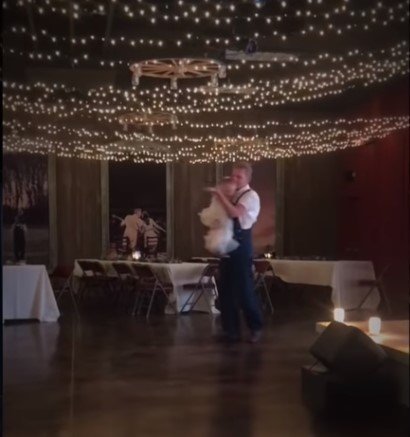 In the video, Rory shared the last dance with his little daughter as they danced to a Keith Whitley song titled "I'm Over You." The song held special significance as it was one Rory and his late wife used to dance to all the time.
"And although Dalton got the first dance with the bride…I got the last dance with her. Well, with my little-bitty bride that is. It was to an old Keith Whitley song that her Mama and I used to dance to." Rory happily mentioned in his blog.