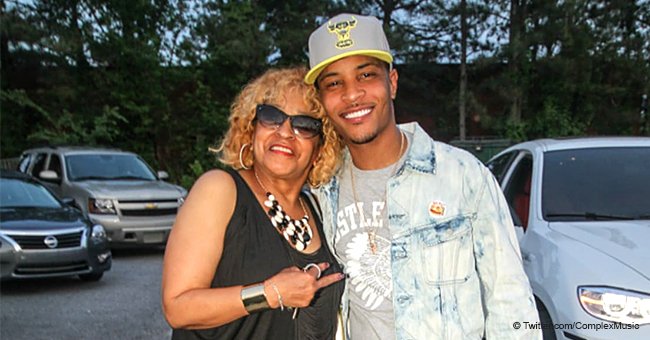 T.I Shares Emotional Tribute after Sister Precious Dies at 66 Following Tragic Car Accident

T.I. floods his social media with memories of his sister following her death. "Don't Pity us," he says.
T.I. is deep into mourning the death of his sister Precious Harris and he took to Instagram to share a series of touching tributes to her.
The rapper chose to look back at his fondest memories of his sister sharing clips that highlight how hilarious his sister was. "Don't Pity us," he wrote to accompany one of Precious showcasing her skills in rap. Instead, he says it's a pity for others who did not get a chance to know his sister.
"WE PITY YOU cause you didn't get to spend your whole life soaking up game from this No Nonsense Straight Shooting social butterfly of a HILARIOUS wizard-woman of wisdom, Human Almanac of useful information, Golden Era Expert, Raiser of Real 1s like we did!!!! Missed your opportunity... she ain't taking no more appointments... She been promoted!!! Only thing she couldn't EVER DO is get the lyrics to the song right... EVEN MINES."
Precious died after over a week of fighting for her life in the ICU following a serious car accident on February 13. She reportedly hit a pole and this triggered an asthma attack. Days before her death, her family asked for prayers through messages on social media hoping for her recovery. However, it seems prayers were not enough for her to pull through. After her death, T.I. took to his Instagram to make the announcement and express his deepest sentiments.
"While we are saddened that our beloved Precious is no longer with us, she will forever have a special place in our hearts and our family.
"I was such a lucky man because you were my sister, you were there every step of the way…always helping me become my best self.
"I/We could not have done it without you. Forever grateful, your baby brother, TIP."
The announcement was written over a photo of Precious. T.I. accompanied this with a heartfelt caption.
"We ALL Love You, Miss you, & Appreciate you for your love,service,& lifetime dedication to US!!! And while We're ALL Happy to see you get your well deserved wings of eternal peace... free from pain, worries, & anguish... But Still WE ALL REALLY HATE TO SEE YOU GO!!! ?Don't even trip about US tho sis... you spent your entire life making sure WE was straight... "
T.I. also assured his sister that they will be okay and will never forget her despite her loss.
"Now we owe you to NOT be selfishly consumed by our pain,but to be HAPPY for you claim your peaceful place in paradise. You earned it sis. We'll be miserable for a while for missing your physical presence, but your lessons of love,words of wisdom & historical memories WILL NEVER DIE!!! Tell Pops me and Bryce said Whattup. Y'all save us a spot... until then... farewell Big Sis."
Following that post, T.I. unearthed several photos and videos of Precious from better days.
He also shared a clip where he's singing along to the tune of the Bee Gees' "More than a Woman," as a special tribute to Precious' life.
"Still Loving you from this life to the next sis... We're all better in some way because of your life. Now it's on to bigger and better things for you. We'll be just fine...Because of YOU! You're Truly More than a woman to me sis. Love you.#IaintWitTheSadShit #CelebrateLIFE"
Precious will certainly be missed by the entire Harris clan and more so by T.I. who was reportedly very close to her. She is survived by her three children, Kamaya Chapman, Avis Champan-Reese, and Kareem "Plug" Chapman.
Please fill in your e-mail so we can share with you our top stories!