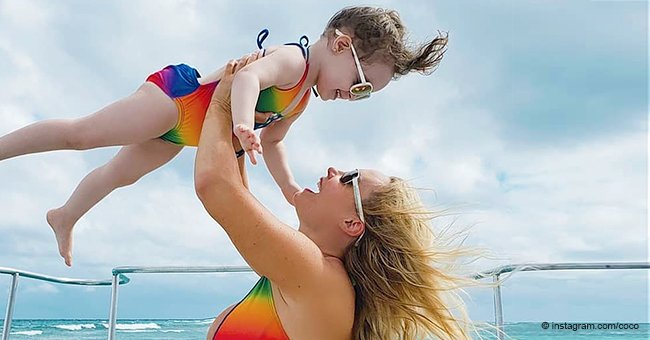 Coco Austin Lifts Her Mini-Me Daughter in the Air as They Flaunt Matching Rainbow Swimsuits
The 39-year-old actress and model Coco Austin and her daughter Chanel looked adorable as they posed in matching swimsuits.
Last week, Austin shared a photo of her and daughter Chanel dressed in rainbow-colored swimsuits. She captioned the Instagram post:
"I teach Chanel to be a free spirit! Be loveable and happy, and life will be great!"
Austin and her husband Ice-T are on vacation with their three-year-old toddler in Punta Cana, a small coastal town in the Dominican Republic.
The proud mother-of-one has been sharing fun snaps of their holiday with her 3 million followers, as well as a video of Chanel surfing.
In another post, Austin can be seen kissing a dolphin. When the family isn't spending time on their yacht, they relax poolside at the Hard Rock Hotel.
One of the photos shows Chanel sitting on her mother's lap in the shade of a palm tree. Austin captioned the cute moment:
"I'm the human pillow at all times even at the pool. Mommy's boobs are the best! Baby's are so beautiful when they sleep, right?"
While Austin likes to mainly pose with Chanel, she also snapped a few photos of her husband, 61-year-old Ice T, as he was relaxing on the yacht.
She captioned one of the photo sets with "family vibes." It was taken on a bright and sunny day, and Austin confessed:
"I feel kinda guilty posting these while back home in NY we have a snow storm."
Fans of Ice-T can follow his work on "Law & Order SUV." He joined the cast back in 2001 and appears in more than 400 episodes.
His upcoming projects include portraying the role of Croft in "Equal Standard," and RJ in "Clinton Road." The later is completed, but a release date has not yet been set.
"Equal Standard" is currently in post-production and will be released later this year. Despite his busy schedule, Ice-T puts his family first.
The couple tied the knot back in January 2002 and renewed their wedding vows nine years later. They have several properties – a five-bedroom home and a penthouse in New Jersey.
They are wary of sharing certain details about their life with the public. They announced back in November 2015 that their daughter had been born, but didn't share her birth date.
Please fill in your e-mail so we can share with you our top stories!