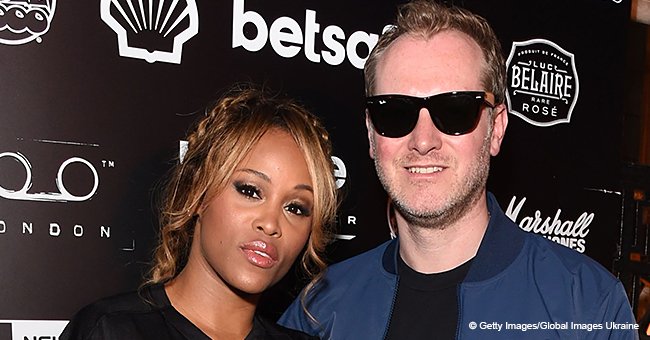 Eve & Millionaire Husband Flaunt Their Lavish Lifestyle, Posing Next to Luxurious Car in New Pic

Rapper Eve and her husband Maximillion Cooper recently posed for a photo as they showed off yet another indication of their luxurious lifestyle. The millionaire mogul also made sure to leave a message for fans in the caption.
Being the wife of the Gumball 3000 motor rally CEO sure comes with its perks, and Eve is living her best life.
Cooper took to Instagram on Wednesday with a photo where he and Eve stood on either side of a blue Pagani Huayra Roadster.
Cooper matched the vehicle in his dark blue t-shirt paired with denim pants and white sneakers, while Eve opted for a white t-shirt bearing an illustration of the legendary singer, Sade.
The "Tambourine" rapper paired the iconic tee with denim shorts, a denim jacket tied around her waist, trendy lace-up sneakers and a black hat.
Both husband and wife sported dark sunglasses and looked to be enjoying the most out of a sunny day.
THE GUMBALL EFFECT
"Today felt like summer has come early," Cooper wrote about the weather before reminding fans of the annual Gumball event. "It's not too long til this years [sic] rally!"
The Gumball 3000 motor rally marked its 20th-anniversary last year, and Eve, who has been dubbed the "First Lady of Gumball," made sure to take fans along for the ride on social media.
She treated her Instagram followers to pictures of many luxury cars as well as some of the exotic locations, musical performances, and art displays that are all a part of the rally, and at every point, Cooper, 46, was by her side.
AN "AMAZING" EXPERIENCE
Eve, 40, and the millionaire businessman tied the knot in June 2014 at the end of that year's Gumball event in Ibiza, Spain.
The couple met four years earlier at the 2010 Gumball 3000 rally, so it only fit that they had their wedding when they did.
Cooper told E! News that he was happy to make Eve his wife. "The whole experience has been amazing, and we are both so happy to have tied the knot," added the British mogul.
FIRST COMES MARRIAGE
For her part, the "The Talk" co-host said she knew Cooper was the one when she noticed his reaction to seeing her hair.
"I was actually getting my hair done. I was at a salon actually, in a little suite. He walked in and I was like, 'what am I gonna do? Run?' He was just like, 'Okay.' I'm his first Black girl anyway. He's gone through Weave 101 with me. He knows now that if I say, 'Babe I'm getting my hair done,' he's like, 'Well, how long?'"
Eve also can't stop raving about her man and has revealed they "can't wait" to have kids of their own. Cooper's four children from a previous marriage are also on board.
"We've gone on vacations together, and they're the sweetest kids, Eve once shared. "The kids are excited. They want a brown baby sister."
Please fill in your e-mail so we can share with you our top stories!