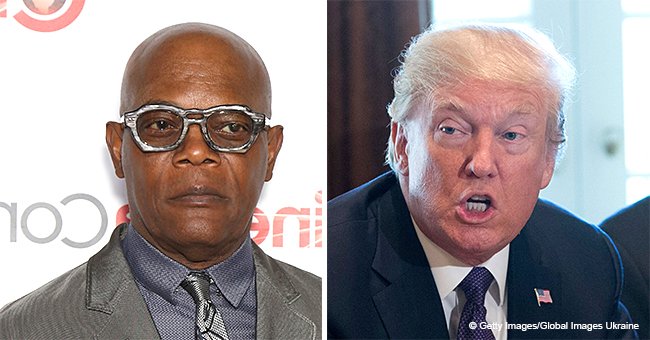 Samuel L. Jackson Goes after Donald Trump, Compares the President to 'Plantation' Owner
Samuel Jackson had a prepared response to Donald Trump's latest comments regarding Spike Lee's Oscars speech. He agreed with the president about doing more for Black people because of one reason.
Samuel Jackson likened Donald Trump to a "plantation" owner when he responded to the president's tweet about Spike Lee.
Trump reacted to Lee's speech at the Oscar's where he won Best Director for "BlacKkKlansmen." Lee encouraged his listeners to "mobilize" by saying,
"Let's all be on the right side of history. Make the moral choice between love versus hate. Let's do the right thing. You know I had to get that in there."
He added,
"400 years. 400 years our ancestors were stolen from mother Africa and brought to Jamestown, Virginia. Enslaved. Our ancestors worked from can't see in the morning to can't see at night."
Deeming Lee's speech as a "racist hit", Trump fired back by boasting about doing more for African Americans than any other president. His exact words,
"Be nice if Spike Lee could read his notes, or better yet not have to use notes at all, when doing his racist hit on your President, who has done more for African Americans (Criminal Justice Reform, Lowest Unemployment numbers in History, Tax Cuts,etc.) than almost any other Pres!"
Jackson, who's known to have slammed Trump in the past, took a shot at him again when he ran into TMZ at LAX. Asked to comment about Trump's remarks against Lee, the "Captain Marvel" star said the president was "too sensitive". And when asked to further comment, he added, "Yea, he's got a big plantation."
While Jackson had something to say about Trump's tweet, he didn't comment when asked about Lee's obvious dismay when his film lost to "Green Book" in the Best Picture category. The director was seen attempting to storm out of the theater when his film lost until he was stopped and asked to return to his seat. When asked to explain his reaction, he said,
"No, I thought I was court side at the Garden and the ref made a bad call."
As for Trump's reaction to his speech, Lee simply shrugged off the president's comments as nothing new.
Please fill in your e-mail so we can share with you our top stories!