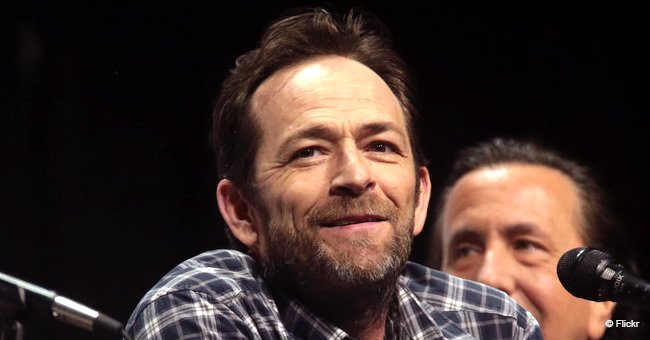 Luke Perry's Grown-up Son Takes after His Famous Dad but He Chose a Very Different Industry
While a lot of celebrity children follow their parents into Hollywood or do something related to show business, the career choice of Luke Perry's son is unexpected and shocking.
Hollywood actor, Luke Perry's son, is all grown-up and makes career decisions for himself. The 21-year-old, Jack Perry, rather than follow his dad into Hollywood or do the next-best-thing, modeling, decided to join the world of wrestling.
In the ring, he is known as "Jungle Boy, Nate Coy," and wears his blonde hair long and curly, with his feet covered in leafy boots. Although his hair is best suited to a rock star, the young wrestler embodies the jungle look with this ensemble.
In 2017, Perry posted a video of his son fighting at the Los Angeles "Underground Empire Wrestling." The "Beverly Hills, 90210" star was pictured in the bleachers by "Yahoo! News" as he took videos of his then 19-year-old son, and cheered him on like a proud father.
While Jack may not have followed his father's career path, the father and son share a huge facial resemblance. However, it is evident that the young wrestler's curly locks were not gotten from his brown-haired father.
Perry's ex-wife, Rachel "Minnie" Sharp, and mother to Jack and his 16-year-old sister, Sophie, is a natural blonde, with curly locks. So it's no secret who the young wrestler got his hair from.
Recently, the focus shifted from son to father, as news of the Hollywood heartthrob's illness made the rounds. It was reported that the "Riverdale" actor and on-screen father of "Archie Andrews" suffered a massive stroke.
His representative confirmed the news after rumors of him being in a medically induced coma spread. Speaking to "Mirror Online," the rep confirmed that the 53-year-old actor was sedated, but not in a comma.
Perry was rushed to the hospital on Wednesday after paramedics responded to a 911 call from his home in Sherman Oaks, California. No update has been given about his health, but it is known that he is being closely observed.
The news of his stroke came a day after it was announced that there would be a reboot of his '90s hit show "Beverly Hills, 90210." "Fox" had released a statement confirming the reboot and the return of its original cast members, but it's not known if Perry will be joining them.
Fans, co-stars from "Riverdale," and his friend of over thirty years, Ian Ziering, have sent him tributes and good wishes as they await his recovery.
Please fill in your e-mail so we can share with you our top stories!