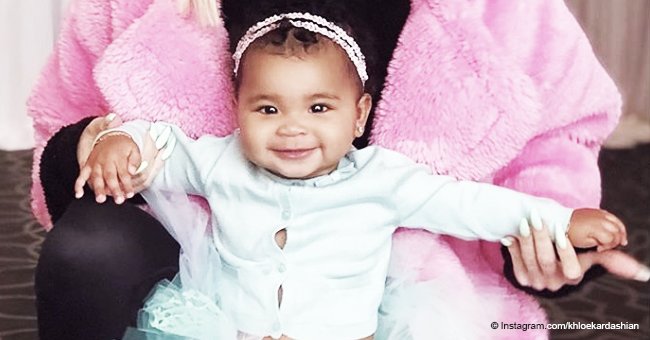 Khloé K. Shares Photo of Her 'Sweet Angel' Baby True after Blaming Tristan for Breaking up Family

A day after blaming Tristan Thompson for their breakup and announcing that she's moving on, Khloe Kardashian shared a new photo of their ten-month-old daughter True Thompson, who she refers to as her "sweet angel."
It's been a rough couple of weeks for Khloe, 34, since news broke that her boyfriend/baby daddy Tristan, 27, allegedly hooked up with Jordyn Woods, the 21-year-old best friend of Khloe's sister Kylie Jenner.
Now, the reality star/entrepreneur is focusing on the things that matter to her and top on the list is her daughter True. Khloe took to Instagram on March 3 with an oh-so-adorable photo of her baby girl that's sure to melt the hardest heart.
Dressed in a powder blue blouse-and-tutu set, True smiled for the camera while holding on to her mama's hands. The blue tutu featured a rose pink bow and True sported matching boots and headband.
MOMMY-DAUGHTER DATE
Khloe matched with her mini-me in a furry, pink, coat paired with a black sweater, skintight leggings, and a set of white sneakers.
Khloe's face is not visible in the Instagram photo, but her outfit and blonde hair are, and according to Dailymail.com, the mother-daughter duo was dressed to grab lunch in Calabasas, California, on Saturday (Khloe shared the photo a day later).
BLAMING TRISTAN'S INDISCRETION
The "Good American" founder's post comes in the wake of her recent admission that Tristan is to blame for their split. She poured out her heart in a series of heartbreaking tweets on Saturday.
"This has been an awful week & I know everyone is sick of hearing about it all (as am I)," Khloe confessed. "I'm a rollercoaster of emotions & have said things I shouldn't have. Honestly, Tristan cheating on me & humiliating me wasn't such a shock as the first time."
MESSY TRACK RECORD
Tristan was previously accused of cheating on Khloe last April after photos and videos emerged of him making out with other women days before she gave birth to True.
The "Keeping Up With The Kardashians" star followed up her first tweet with another that suggested Jordyn's seeming betrayal hurt her more than Tristan's infidelity. She also finally admitted that the NBA player was responsible for their split.
"What's been harder & more painful is being hurt by someone so close to me. Someone whom I love & treat like a little sister. But Jordyn is not to be blamed for the breakup of my family. This was Tristan's fault."
BLAMING JORDYN AT FIRST
"I have to move on with my life & count my blessings, my family, my health, & my beautiful baby True," Khloe concluded in a third tweet.
Initially, Khloe had lashed out at Jordyn after the model told her side of the story on "Red Table Talk." Jordyn claimed it was Tristan who kissed her while she was drunk and insisted she was "not the reason Tristan and Khloe aren't together."
"Why are you lying @jordynwoods?? If you're going to try and save yourself by going public, INSTEAD OF CALLING ME PRIVATELY TO APOLOGIZE FIRST, at least be HONEST about your story," Khloe fired back not long after Jordyn's interview aired. "BTW, You ARE the reason my family broke up!"
Please fill in your e-mail so we can share with you our top stories!