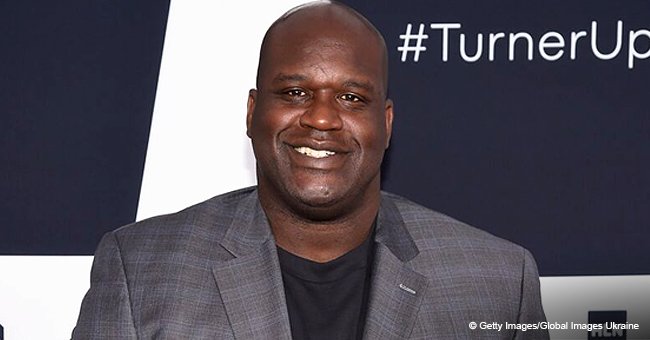 Shaunie O'Neal Turned Heads in Tight Red off-Shoulder Dress after Ex Shaq Showed off His New Woman

Shaunie O'Neal, the ex-wife of NBA legend Shaquille O'Neal, took to Instagram to share a photo wearing a sexy off-shoulder dress while in the counter of a bar.
The lady is a well-known TV personality and entrepreneur who has worked as the executive producer of "Basketball Wives" and most of its spin-offs. She was married to Shaq from 2002 to 2009 and had five children together.
Even though it's been almost a decade since they parted ways, they are still (and will always be) in touch due to their children as they have been spotted together celebrating important milestones in their lives.
Recently, Shaunie made headlines due to the beautiful and sexy photo she uploaded to social media. In it, the lady appeared wearing a stunning, tight, red, off-shoulder gown that featured a deep neckline.
She even wore red lipstick to make the pic more dramatic and attractive. Shaunie was not looking at the camera but her phone while resting on the counter of what seemed to be a bar.
For the caption, the successful executive producer wrote, "business will ALWAYS get handled! Happy Monday." As soon as she uploaded that photo, her followers took to the comment section to share their thoughts.
"That dress is absolutely gorgeous on you... keep your grind and your shine, honey!" commented one user.
"You are such an inspiration to women everywhere. Epitome of class lady, thank you for portraying that and being endlessly hilarious when I watch your show!!" admitted a second follower.
"You always look Drop Dead Gorgeous!!!" wrote another user.
SHAQ AND HIS NEW GIRLFRIEND
Apart from the photo itself, one aspect that attracted a lot of attention about the post was that Shaunie shared it soon after Shaq was spotted "showing off" his new partner, 35-year-old actress Annie Ilonzeh.
The 46-year-old former NBA star was walking in New York City in January holding the hand of the "Chicago Fire" actress in what seemed to be a romantic and fun outing, especially because they were not trying to hide.
Shaq chose to wear black shoes, matching pants, and an orange coat with a hoodie to protect himself from the cold temperatures. Annie, on the other hand, looked more glamorous in a burgundy see-through top, silk pants, and a brown coat.
Shaunie and Shaq's love story is not too different from the ones that other NBA players and celebrities have had. They met each other, fell in love, had children, Shaunie filed for divorce but later made amends with Shaq, and then they realized that they didn't belong with each other and ultimately parted ways.
HIS CHEATING SCANDAL
The "Basketball Wives" boss talked about Shaq's cheating scandal during an episode of the show, and Shaq wrote about it in his 2011 memoir titled "Shaq Uncut: My Story."
"I was a guy with too many options. Choosing to be with some of those women, well, that's on me. In my mind, I never did it disrespectfully, but obviously I shouldn't have done it all. You know as well as I do relationships are about maintaining... It wasn't the big stuff, it was the small stuff, and that's my fault."
TRYING TO GET BACK TOGETHER?
Back in August 2018, Shaq uploaded a photo that many considered it was a sort of call to Shaunie for a reconciliation. In the image, the man appeared wearing a black suit that had a black roses design all over it with a white shirt and a black tie.
Shaq was holding a red flower as flashing his big smile at the camera. For the caption, he wrote, "this is the same suit I'm wearing when I marry [Shaunie]."
However, the boss lady responded to it and set clear she was not into a reconciliation: "Actually this suit is more fitting for next season's star of The Bachelor on @abcnetwork #justsayin #wedidthatalready."
Recently, the ex-couple's eldest son, Shareef, made headlines by announcing that he would be back on the court in six weeks after undergoing surgery to treat a life-threatening heart condition.
THEIR SON'S HEALTH PROBLEM
The 19-year-old man noticed something strange during summer training and went to the hospital, where doctors found out his problem and told his family that he must have gotten the surgery or he could die.
He came out of the operating room with a big scar in his chest but with his heart problem fixed, which is what really matters.
Talking to TMZ on February 27, Shareef admitted that he only had to wait six weeks to finally be back on the court, pointing out that he felt great and that he would start his first workout session a few days after the interview.
At the moment, the man is a Power Forward for the UCLA even though he missed the 2018-2019 season due to his health problem.
Please fill in your e-mail so we can share with you our top stories!