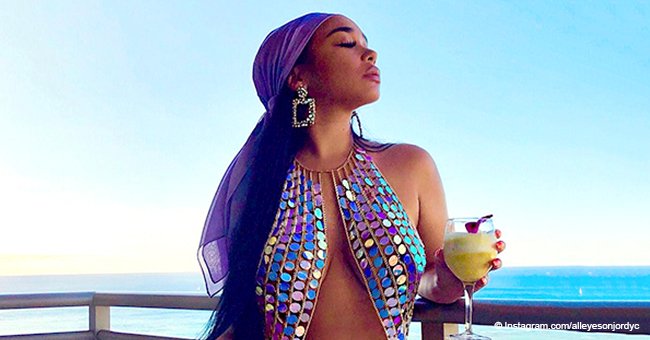 Tristan Thompson's Baby Mama Jordan Craig Melts Hearts with Sweet Photos of Their Son in Hawaii

Tristan Thompson's baby mama Jordan Craig has hearts melting all over social media with Hawaii vacation photos of their son amid accusations of Thompson cheating on his second baby mama, Khloe Kardashian.
Her baby daddy is currently front and center in an alleged cheating scandal, but Craig, 27, seems determined not to let it affect her or their son, Prince Oliver.
The Instagram model/lifestyle blogger recently took a trip to Hawaii with Prince and had tons of pictures to share with her over half a million followers.
Craig took to the platform some hours ago with several shots of her toddler during the paradise getaway. In one picture, the doting mom posed with Prince in a multi-colored, halter-neck dress and pink headband. Her little man looked every inch the Hawaiian tourist in a floral-patterned shirt, white pants, bowler hat, and strappy sandals.
ISLAND ADVENTURE
There were also photos of the mother-son duo watching animals at the zoo, swimming at the beach, and sightseeing among tall trees, but maybe the most adorable pic was one where Prince played in the sand while a handmade neckpiece dangled from his neck and curls peeked from underneath his hat.
"Our first Hawaiian adventure!" Craig announced in the caption.
CHEATING SCANDAL
The model's latest post continues to confirm the unbothered stance she's adopted since news broke of Thompson, 28, cheating again on his second baby mama, reality star Khloe Kardashian.
The NBA player made headlines last month after it was alleged that he cheated on Kardashian, 34, with her sister Kylie Jenner's BFF, Jordyn Woods.
Woods, 21, has since, come out to say she was at Thompson's house party but never slept with him. She claimed it was he who kissed her as she was leaving his house.
DEALING WITH THE BREAKUP
Kardashian's initial reaction to Woods' statement was that they were all lies and she blamed Woods for breaking up her family, but the "Good American" founder later admitted that it was Thompson, who has so far remained silent, that broke their home.
He was initially caught cheating a few days before Kardashian welcomed their daughter True, last April; the same daughter that, according to a source, Thompson is making no effort to be with.
KARDASHIAN'S PAIN
The insider recently told PEOPLE:
"It's very upsetting to Khloé. To her, True is the most important person ever. It's very difficult for her to understand how Tristan isn't willing to make more of an effort to spend time with True."
Kardashian has also been dealing with their split by posting cryptic messages, most recently a day after Thompson's March 13 birthday. One of the quotes spoke about "forgetting" someone. "You just have to endure missing them every day until you don't anymore," it read.
STAYING CLASSY
There are widespread rumors that the "Cleveland Cavaliers" player cheated on Craig with Kardashian, especially since Craig was two months away from giving birth to their son when Thompson and the reality star began dating in September 2016.
However, don't expect Craig to gloat over Kardashian's current situation. Back in April when the athlete was first accused of cheating, and social media users dangled the "karma" line in her favor, Craig refused to join in and released a classy response instead.
"If you respect yourself and you respect others, you would never make light of the misfortune of anyone," she wrote in an Instagram Story. "Nor would you feel indemnified when it comes at the expense of others."
Please fill in your e-mail so we can share with you our top stories!