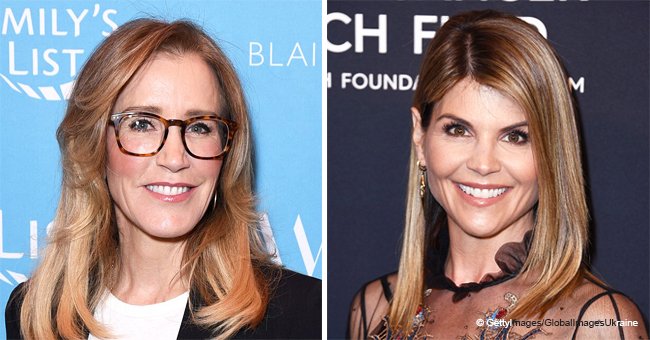 Fan Creates Tagline Mocking Felicity Huffman and Lori Loughlin

Felicity Huffman and Lori Loughlin, of "Real Housewives", were given taglines for their recent college admissions bribery scandal - and they were hilarious! The fan-made taglines got Andy Cohen laughing too.
A "Real Housewives" fan recently made creative taglines for Felicity Huffman and Lori Loughlin, after their arrest over their involvement in a college scandal. The fan with the Instagram handle "The Bravo Boy"
posted
a replica of the show's introduction, with the taglines:
"The only thing I'm desperate for is a top notch education"
below Felicity, and,
"My house is full, and so is my jail cell"
below Lori.
What made it even more humorous are the puns embedded on each tagline - Felicity's role in "Desperate Housewives", and Lori's role in "Full House".
The fan captioned the hilarious post:
"TAGLINES REVEALED! #auntbecky"
The post gained many likes and comments, including the shows executive producer, Andy Cohen. He too probably found humor in the taglines and commented:
"Omg."
The story behind the witty post is the recent arrest of both actresses' due to their involvement in a big bribery college scam, that had over 50 other people engaged.
Felicity, 56, and her husband, William H. Macy, were alleged to have made a charitable donation of $15,000 for their eldest daughter, Sofia Grace Macy, to garner additional time while taking the SAT's. Additionally, the proctor was said to have changed the 18-year-old's incorrect answers to increase her score.
Lori, 54, and her husband Mossimo Giannuli, 55, were charged for bribing coaches a total of $500,000 to get their two daughters, Isabella, and Olivia Jade, in the universities crew team. The two girls, however, have not competed in rowing or have been involved with athletics.
The charges made against the two "Real Housewives" actresses may pose serious threats to their career, given that they are to merit time in jail.
Please fill in your e-mail so we can share with you our top stories!