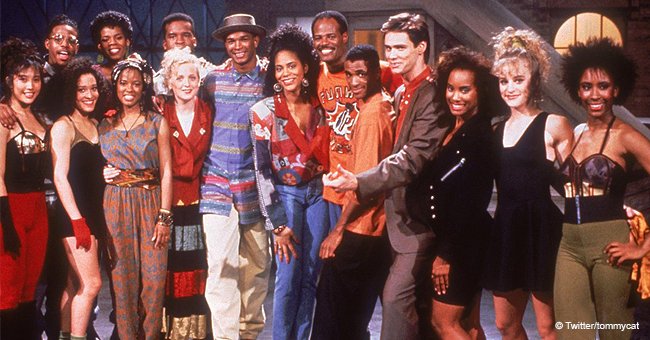 'In Living Color' to Hit the Big Screen, Cast Will Get Together for Reunion 25 Years after Finale
Twenty-five years after its final episode aired, "In Living Color" will be making a long-awaited return to the big screen for one day at the upcoming Tribeca Film Festival. Cast members of the hit show will also be reuniting for the first time in years.
The 90's TV story would not be complete without the popular sketch comedy series created by Keenen Ivory Wynans, and among other iconic TV staples, the film festival will be paying tribute to "In Living Color" with a special screening.
As part of its TV program, the festival will for the first time celebrate anniversaries and milestones of iconic television shows, reports Huffington Post.
Besides a special screening of the show's pilot episode, several original cast members of "In Living Color" will also be reuniting at the festival, according to a press release.
"That show needs to exist. ...There's so much to eat up and spit out"
Besides Keenen, co-stars Tommy Davidson, David Alan Grier, Shawn Wayans, Kim Wayans, and Rosie Perez are also set to be at the event.
The announcement further states:
"Twenty-five years after its finale, the cast and creator of the groundbreaking sketch comedy show 'In Living Color' will reunite to reflect on the Emmy Award-winning show that upended the landscape of television comedy and launched the careers of some of the greatest entertainers of our time."
Davidson, on Monday, teased the reunion on Twitter with a throwback photo that featured other cast members like Jim Carrey and Kim Coles.
"Guess who's getting together 4 @Tribeca FF 2019?" he wrote. "That's right #InLivingColor gettin' 2gether 4 reunion."
"In Living Color" ran for four years on Fox, premiering on April 15, 1990, and airing its final episode on May 19, 1994.
The series was also famous for featuring a dance troupe called the Fly Girls. Jennifer Lopez, Carrie Ann Inaba, and Deidre Lang were some of the occasional members of that troupe.
Carrey said last year while speaking with ET that he would love a reboot of the Emmy-winning show.
"That show really needs to happen! That show needs to exist. Especially now, man. There's so much to eat up and spit out so I'd love to see it reconstitute itself in another form."
The 2019 Tribeca Film Festival will run through April 24 to May 5 and "In Living Color" is scheduled to screen in a theater on April 27.
Please fill in your e-mail so we can share with you our top stories!