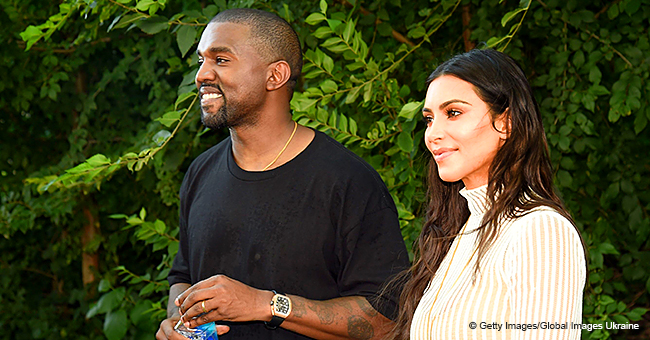 Kim Kardashian Sparks Debate after Sharing Videos of North West Wearing Black Lipstick & Clothes
Kim Kardashian proudly shared a video of her daughter dancing during Kanye West's Sunday Service but fans slammed her for the five-year-old's appearance.
It was North West's "favorite part of the week" according to Kim Kardashian who flaunted her daughter's dance skills during her father Kanye West's Sunday Service. Not only was North in her element in the series of video clips her mother shared, but she was also dressed in an all-black ensemble and wearing dark lipstick.
YOUNG PERFORMER
The 5-year-old in a black feather-trim dress, sunglasses, and boots appeared to be having a good time shaking her booties in front of a gospel choir. Her hair was in a sleek high ponytail that allowed her tiny face to be seen flashing almost black lipstick.
LIPSTICK POLICE
Fans questioned the appropriateness of her makeup considering she was just a child. A debate on Twitter ensued, with people arguing over the matter.
"She's adorable but why so teenage looking[?]" one Twitter user commented to which another responded by defending Kim's daughter.
"Nothing about the way she looks is teenage looking she's wearing a knee length dress and pony tail.. I didn't know kids can't wear lipstick???"
"Yeah that video of North West dancing is cute but all I can see is the lipstick and dress, and I just really hope she's allowed to be just a kid before being forced to be fashionable at all times," another injected, siding with the first commenter.
"Ok Kim...she's looking a bit mature for her age and dancing quite sassy ...Tell her TT Tah said no shaking her behind during Sunday service," another added.
"There is something really sad to me about seeing photos of 5 year old North wearing a feathered slip dress and black lipstick to 'church' services. Poor kid doesn't stand a chance."
KIM AND NORTH'S DEFENDERS
But soon, many defended North saying there wasn't anything wrong with wearing lipstick. Some traced back to their childhood and recalled wanting to wear lipstick for fun.
"I have pics of me wearing some WILDD makeup to dance recitals when I was a kid. Leave precious North West alone, u trolls. Her black lipstick is iconic."
"Okay why is everyone criticizing @KimKardashian for North West's outfit? I think she looked dope! I remember being 6 and 7, and my mom dressing me up in cute clothes and me wanting to wear her heels and lipstick and clips in my hair. Like that's literally something we all did!"
Others simply shrugged off haters' comments and attributed them to a bout of jealousy.
"People giving out about North West's lipstick and dress but we all know y'all r just jealous of her life."
"Is it sad that I want to be North West? Jealous of a 5 year old"
WHEN FANS SLAMMED KIM FOR NORTH'S MAKEUP
This isn't the first time Kim was criticized for dressing her daughter inappropriately. A few months back, fans also called out the reality star for allowing North to wear makeup during a nighttime outing. However, Kim later explained she gave in to her daughter's wishes to wear lipstick because she had to bribe her out of their home.
WHEN THEY CRITICIZED NORTH FOR WEARING A BIKINI
In another occasion, fans slammed Kim for posting a photo of her daughter in a bikini. They were on vacation in Miami and she shared a snap of the little girl's yellow bikini. Haters accused the celebrity mom of letting her child wear a skimpy outfit around strangers. But Kim didn't need to defend her decision because fans came to her rescue and slammed the haters for thinking malicious thoughts on a youngster wearing a bikini.
COMES WITH THE TERRITORY
Kim is not new to criticism. It comes with the fame her family managed to amass due to their reality show. North grew up in the limelight and around her family whose business, aside from sharing their life stories to the world, is circled around fashion and beauty. It's not surprising North would show an interest in makeup and dressing up, it's something she's exposed to daily. She even has an adorable video putting on makeup on herself. Besides, she's a little girl who just wants to have a little fun and pretend to be a grownup. We're sure most girls can relate to this.
Please fill in your e-mail so we can share with you our top stories!