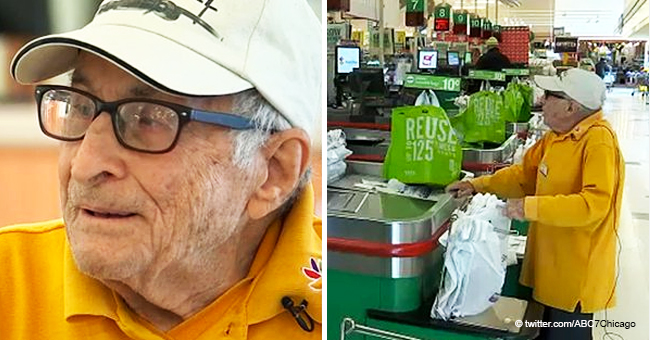 97-Year-Old WWII Veteran Is Proud to Still Be Working at a 'Stop and Shop' Bagging Groceries

A New Jersey man is making headlines after he displayed a very positive outlook on living. At 97, the veteran is nowhere near ready to retire.
Bartholomew Ficeto is way over his prime, but he is always so cheery as he goes about his daily work. The veteran never ceases to smile as he bags groceries at a stop and shop store.
Although aged, Ficeto has expressed great dedication to his job of 10 years and proudly boasts of how his age is just a fact and not a discouraging factor. He does it cheerfully, and Sal Marconi, who manages the store was full of compliments for Ficeto.
He described him as "a joy" and that "he's just so full of life, he's happy." You'd admit that Ficeto is indeed one rare man and he suddenly rose to recognition after the local paper featured his story!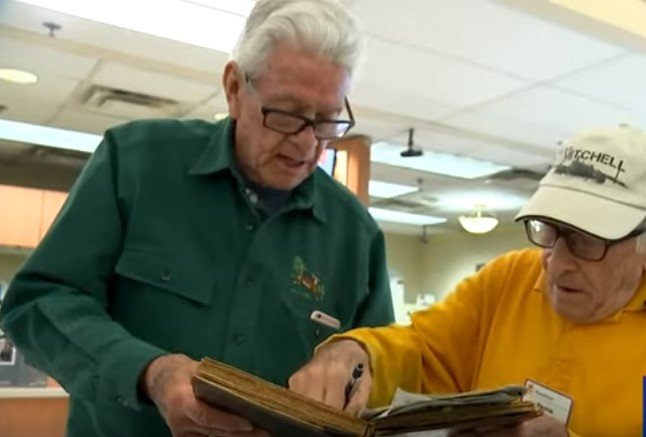 Bartholomew Ficeto with a man at the store | Photo; YouTube / Eyewitness News ABC7NY
A proud Ficeto was rather excited as he became famous even earning himself fans. According to him, some of the customers would also stop to ask for autographs!
The reason is quite evident as it is somewhat unusual to see a 97-year-old so bubbly and active! He seems to be an epitome of good health, longevity, and things that everybody wishes for. What makes Ficeto even more sensational is the discovery that he experienced World War II firsthand!
ABC 7 reports that Ficeto once served as a gunner on a fighter plane during the turbulent time. It can be considered to be of a significant influence on the way he approaches life. He disclosed that he was always so fearful every time he had had to get back on the war front.
Ficeto:
"I was scared every time I had to get into the plane, but the Lord took me back."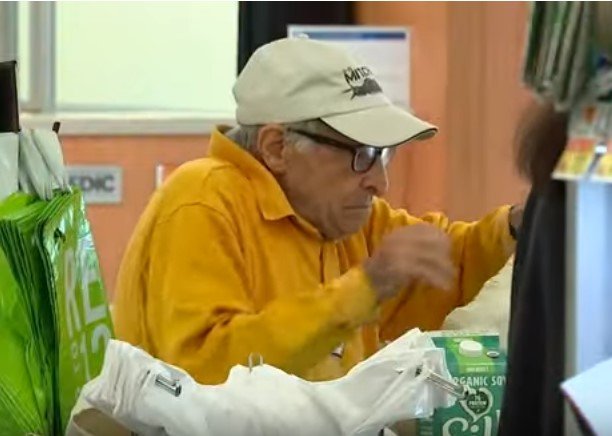 Bartholomew Ficeto getting an item in a store | Photo: YouTube / Eyewitness News ABC7NY
He also related a near-death experience he once had saying:
"The day I didn't fly, they shot my plane down, and I don't know where they went down."
Despite all of this, it is astonishing and just so heartwarming to see that Ficeto has chosen to enjoy his preserved life the best he can. That is no easy feat with veterans like him who majorly experience a massive blow to their mental and physical health following their service on the war front.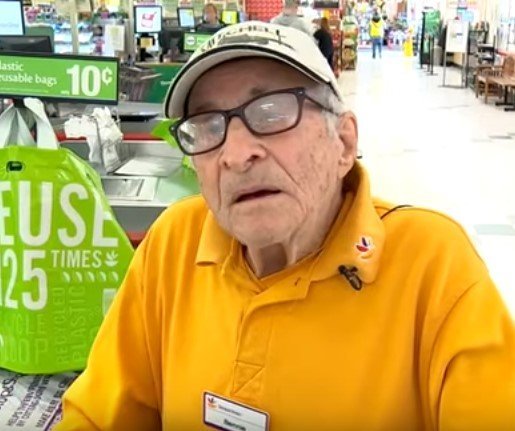 Bartholomew Ficeto at the store | Photo: YouTube / Eyewitness News ABC7NY
The welfare of veterans is one considered of great importance. There are numerous plans laid by the government, and private set-ups to help veterans live out the rest of their lives in ease. One of such is a new development in the workings on the Apple iPhone.
It will enable old soldiers to track their health records thus making it very easy for them to keep a close eye on their wellbeing. The update is still yet to be released but if brought to fruition, promises to be of great help to veterans like Ficeto.
Please fill in your e-mail so we can share with you our top stories!