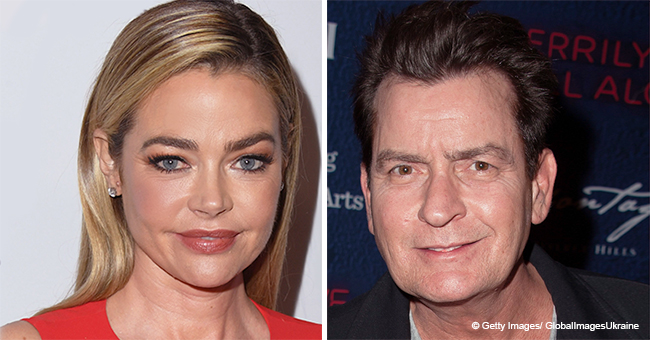 Why Denise Richards Invited Former Husband Charlie Sheen to Her Wedding
For the sake of the children, Denise Richards says she invites Charlie Sheen to everything having to do with the kids.
It may seem odd or awkward for some, but Richards felt it was important to invite her ex-husband to her wedding. On an episode of "The Real Housewives of Beverly Hills," she said,
"No matter what's gone down with Charlie and I, I invite Charlie to everything having to do with the kids and I."
Last fall, the 48-year-old actress married Aaron Phypers, a wellness practitioner, in an intimate Malibu ceremony.
Richards was married to Sheen for four years and have two daughters, Sam, 15 and Lola, 13. She was six months pregnant with daughter, Lola when she left Sheen. She then adopted a daughter, Eloise, who is now seven years old.
She shared that whatever is going on with a couple, the children should not be privy to it. Obviously, there are times when emotions might flare up. But we're human beings, and "we make mistakes."
She adds,
"I know that when someone is struggling with addiction, sometimes choices are made that are not in the best judgment, and I have empathy for that. I want Charlie to be the best person and father he can be."
On her new husband, the "Real Housewives of Beverly Hills" star says that they have an "amazing relationship" and they love each other for who they are, and they "don't judge each other."
She also said,
"For him to embrace a single woman with three daughters and an ex-husband with a wonderfully colorful past, it's a lot. That made me fall in love with him even more."
As for Sheen, he said that he wished the newlyweds "nothing but happiness."
Richards shared that she's ultimately supportive of Sheen having a relationship with their daughters. She says that she was never bitter about her divorce and that going through everything, it changed her. But she said she's a "glass-half-full kind of person." And she did her best to rise above it. She said that when times were extremely negative, she tells herself,
"This too shall pass."
Indeed, it has passed. Richards is now happily married to Phypers and she's grateful for the lessons learned in life and love.
Please fill in your e-mail so we can share with you our top stories!