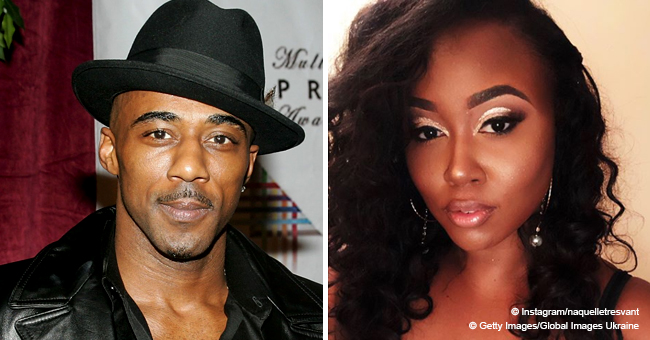 Remember 'New Edition's Ralph Tresvant? His Daughter Made Him a Grandfather for the 3rd Time
New Edition's Ralph Tresvant has become a grandfather for the third time thanks to his eldest daughter, Na'Quelle. The singer shares two more children with his ex-wife and high school sweetheart, Shelly Tresvant, and another one with his current wife.
Ralph Tresvant can rest easy knowing that his legacy will live on for many years, and he has his daughter Na'Quelle to thank for that.
The 28-year-old beauty recently welcomed a boy named Noah Lee into the world and shared the big news with fans by posting a video of the baby resting on his bed at the hospital.
Noah is Na'Quelle's third child with her husband of seven years, Darius "King D" Smith. They also share son Christian and daughter Zaielle.
The proud father, who's also a renowned music producer and engineer, shared a close-up of the boy, on Instagram and added on his caption:
"Another Smith Boy! #NoahLeeSmith Daddy's little big man!!! Thank you to my wife @naquelletresvant for giving me another one of life's greatest blessings. I'm forever indebted to you baby!"
A PROUD DAD
Ralph is yet to address the birth of his grandson publicly, but he must be overjoyed with the news, as he loves to spend time with his grandchildren.
Tresvant is the proud father of four kids in total: Na'Quelle, Mariah, and Ralph Jr. with ex-wife Shelly Jean, with whom he was married from 1993 to 1996. And Dakair, whom he shares with current wife, Amber Serrano.
All of the now grown kids have a healthy relationship, as seen on a photo shared by Na'Quella last year.
Tresvant, 50, has been out of the spotlight for a while now.
NEW EDITION GONE WRONG
Although fans were expecting for him to join the rest of New Edition members (Johnny Gill, Ronnie DeVoe, Bobby Brown, Michael Bivins, and Ricky Bell,) after the success of BET's biopic of the group, people were disappointed to find out he and Gill decided to pass on the new activities of the group.
Rumors have swirled left and right about Tresvant's and Gill's motives not to join the band.
Initially, it was believed that there were issues among the members because of the trademark of their name, which Tresvant and Gill own, and later, some members of the group mentioned the scars ran deeper than that.
In May 2018, Ricky Bell took to Instagram to address the New Edition fans and try to shed some light on the situation, writing:
"Like all families, we have differences that plague us, and those indifferences must be dealt with and smoothed out for us to function as the single unit that will allow us to tour as NE again. To be completely honest, I, for one, will rely on God's infinite wisdom and timing to orchestrate the right time and place for that to happen."
JOHNNY GILL'S SHADY COMMENTS
On the other hand, Johnny Gill earned critics all over social media last year with his birthday message for Tresvant, as most fans accused him of throwing unnecessary shade to the rest of New Edition members.
In his message to Ralph, Johnny wrote,
"@therealralphtresvant I'm a little late, but I hope you had the best birthday ever!! Man you've sacrificed so much of your self in so many ways, a car has many pieces from the fine interior to the fanciest wheels, but without an engine, it can't go very far, you are the engine that's carried the car for many years, and I truly salute you, man. Welcome to the 50 club!! Your best years are still ahead of you. Live, love, enjoy, have no regrets!!! Love you man!!"
Fans had mixed reactions to the musician's post. Though some stood up for him, others accused him of being petty.
"I feel like this was Petti LaBelle type stuff, though Johnny. Why throw gasoline on an all ready active fire? I thought you were the guy that always stayed out the way of B.S. I'm a lil disappointed. @therealralphtresvant why can't you just do it for us, man. Please."
While it is clear that the tensions are still high among the men, Tresvant remains unbothered and out of the spotlight as he enjoys the arrival of the new addition to his family.
Please fill in your e-mail so we can share with you our top stories!