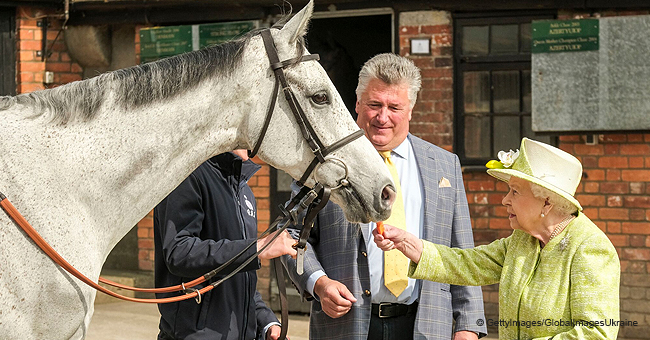 Horse-Loving Queen Elizabeth Smiled as She Fed Carrots to a Horse during a Visit to Somerset
The Queen paid a visit to quaint Somerset on March 28. There, she was spotted spending time with the horses, one of her favorite pastime.
Queen Elizabeth, on one of her statutory visits, visited Somerset some seven years ago. Her visit yesterday makes her most recent trip to the city. According to her schedule, the monarch will tour the country paying a visit to a school, stables and an art gallery.
The Queen, dripping of elegance in a lime green outfit, received a warm welcome on her arrival. She met by a teeming crowd of little kids and dignitaries at the Castle Cary train station where she collected a beautiful bouquet.
Annie Maw, Lord Lieutenant of Somerset, and thrilled children from Lovington Church of England Primary School waved their Union Jack flags happily in greeting.
Superintendent Rhys Hughes, police commander said:
"This is an opportunity for the people of Somerset to see Her Majesty for the second time in seven years. We have to be mindful of the safety of both the royal visitors and the public on such occasions while minimizing the amount of disruption for those wishing to go about their normal daily business."
He went on saying:
"This is likely to be one of the biggest events in the Somerset area for some time, and we are sure the people of Somerset will give Her Majesty a warm welcome."
Afterward, reports say the queen will travel down to the small towns of Bruton and Ditcheat. Everyone is quite excited about the visit with multiple media outlets taking coverage of every one of her appearances since it makes her first since the 2006 jubilee tour.
Her first stop is to the Manor Farm Stables where she had one of the most memorable moments captured so far. Queen Elizabeth is widely known for her fondness for horses, and this couldn't be more obvious as she toured the most popular stables in Somerset.
While at Manor Farm Stables, the monarch Queen met students from the University of Bath who are working on research projects on equestrian sport spinal injuries and racehorse welfare.
There, she was also spotted having the most adorable exchange with a horse as she fed it carrots. Since childhood, Queen Elizabeth has shown a particular preference for horses. It remains the same even in her prime as she has made it one of her most essential ways of spending her leisure time.
Please fill in your e-mail so we can share with you our top stories!