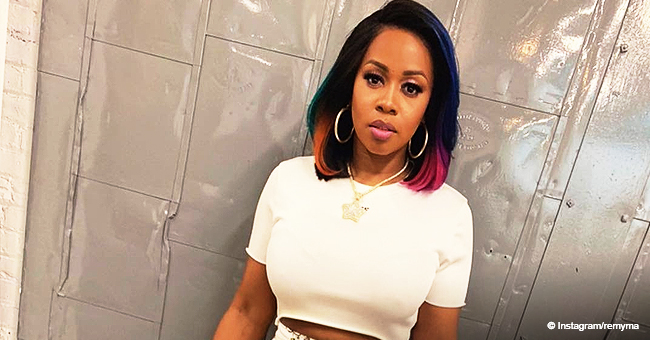 Remy Ma Shows off Phenomenal Post-Baby Body in White Crop Top & Colorful Skirt in Pics
It's been three months since Remy Ma gave birth to her first child, but her snapback body has fans in awe. The rapper recently shared a pic showing off her post-baby body in a crop top, and she looks stunning.
Remy Ma has no competition in the hip hop industry, and now that she's a mom, the rapper has excelled in a new category: getting her body back.
She recently took to Instagram to share a new pic showing off her new hair color, but fans were more focused on her body than anything else in the photo.
Remy donned a white crop top that put her midriff on display, Dolce&Gabbana colorful skirt that enhanced her curves and toned legs and matching colorful shoes.
She accessorized with hoop earrings, a diamond necklace, a golden watch, and several rings, while also showing off the green, orange, blue and fuchsia colors highlights in her newly died hair short hair.
"I always dress myself but it's been a while since I've done my own do. Proud to say- Hair by ME! (this started out blonde) #RainbowRemy #RemyMa #RemyMafia," the rapper captioned the post.
FANS' REACTIONS
Fans were quick to fill the comment section with praises for the "All The Way Up" performer.
"You have really grown into a beautiful lady... I love the new class you and your husband bringing," wrote one user.
Another asked, "When are u gonna share how u lost all the baby weight??? You look amazing!"
And a third one chimed in to say,
"Damn. How is she looking so good after having a baby? Always loved and respected you and your style so much. You really are Mrs. Melanin Magic. Beautiful no matter what you wear."
REMY'S HEALTH ISSUES AFTER GIVIN BIRTH
Remy and her husband, rapper Papoose, welcomed their "golden child" on December 14, 2018, after facing several struggles to conceive a child.
Remy went through tough labor, as Papoose explained on an Instagram post after the baby was born, writing::
"After overcoming such a tough labor/delivery! My wife breastfeeds our child, around the clock. I'm so amazed by her strength, courage & motherly touch. @remyma Thank you, babe! This is all a dream come true! #thegoldenchild Daddy got you forever. You are the definition of beauty."
Although everything seemed to be okay with the new mom, three days after giving birth she had to return to the hospital to get a blood transfusion. And almost a week later, she updated her fans with an Instagram post, revealing that she finally home and doing fine.
On a recent visit to "The Real," she explained that because of her blood pressure, her body was not doing the proper work it needs to after pushing out the baby. She stated that women are supposed to "continue to contract" to make the uterus and the rest of the parts of the body "shrink back" to their pre-pregnancy size, but hers wasn't doing so.
THE BIG REVEAL
Although the couple kept their daughter off social media for the first two months, only referring to her as "golden child" and not showing her face, the adorable girl made her TV debut on "The Real" alongside her enamored parents.
On the show, they also took the chance to reveal the baby's real name: Reminisce MacKenzie Mackie, chosen after Remy's real name.
Talking about how the girl has changed their lives, Remy and Papoose revealed that she brought a sense of peacefulness to their home, and they try not to argue and agree on everything.
After the episode was aired, Remy took to Instagram to reveal even more details about Reminisce. She weighed 7 pounds and 2 ounces when she was born, and everything she and her husband "prayed she would be and EVEN MORE."
Please fill in your e-mail so we can share with you our top stories!