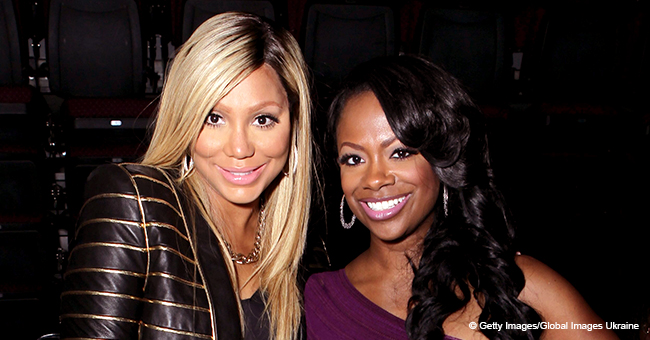 Kandi Burruss Proves Friendship to Tamar Braxton, Invites Her on 'Welcome to the Dungeon' Tour
Almost two months after they reconciled on TV, Kandi Burruss has announced that Tamar Braxton will be joining her on the "Welcome to the Dungeon" tour set to hold in 12 cities across the country.
Burruss is putting her money where her mouth is and proving that she and her "Celebrity Big Brother" co-star are now on good terms.
FRIENDS ON TOUR
In a recent Instagram post, the "Real Housewives Of Atlanta" star shared a promo flyer bearing Braxton's image and revealed she's "[super] excited" to have the latter on board as one of her "guest performers."
"She will be coming with me to all 12 cities to give you an amazing experience that you won't forget! Make sure to get your tickets now at WelcomeToTheDungeon.com. There will be more special [guests] to be announced but I'm just gonna let y'all sit on this one for a while & realize how dope this show/party is gonna be! I hope y'all got some good dungeon outfits picked out!"
THE FEELING IS MUTUAL
Braxton, who eventually emerged winner of "Celebrity Big Brother" back in February, also posted the same picture on her Instagram page and raved about performing live with her "girl," Kandi.
"It's going to be a show to remember, meet me at the Dungeon in your city!" Braxton, 42, added.
PREVIOUS TURBULENCE
Burruss and Braxton's friendship has come a long way in such a short time. Despite knowing each other for 20 years and having tons of mutual friends, the two were never on the best of terms, and their strained relationship played out live on TV for all to see.
While Braxton said Burruss just never really liked her, the "RHOA" star believed their "feud" had something to do with a 2017 Xscape tour where Braxton was performing and brought on artists who had said negative things about Burruss and the group.
Things became even more heated early on in the "Big Brother" house when Burruss tried to clear the air and seek an ally in Braxton. That attempt ended in an impasse, and Braxton ended up revealing she was going to vote Burruss off the show.
FRIENDSHIP FOR REAL
The two eventually buried the hatchet and Burruss even teared up in February while talking about their renewed friendship. In a more recent interview with Ebony, she admitted:
"When I first got in the house, Tamar and I weren't on the best of terms and that played out for the world to see, I guess. But I'm so glad that I did have that experience just so that we could work out our problems because if I wasn't for the house, we wouldn't have worked anything out, to be honest with you."
PROOF OF FRIENDSHIP
Proving that their reconciliation is real, Burruss sent a sweet birthday note to Braxton last month, and if there was any doubt about the genuineness of their friendship, this latest "guest performance" gig puts it to rest.
Burruss's "Welcome to the Dungeon" tour is a series of burlesque-themed shows that the "Xscape" singer describes as "a fun party that is at the same time like a wide variety show of sorts."
The tour is set to premiere in Chicago on May 2nd and wrap up in Houston, Texas on May 26th.
Please fill in your e-mail so we can share with you our top stories!