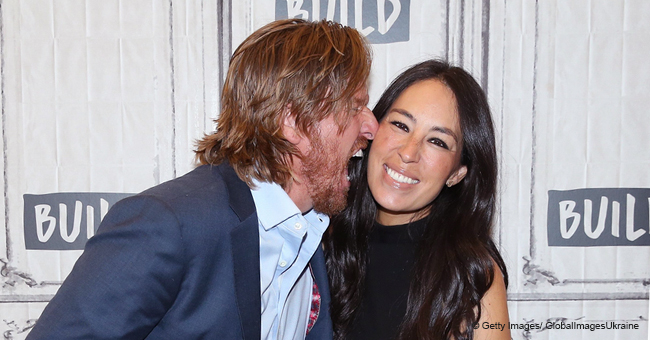 Joanna Gaines Shares Tender Photo of Baby Crew and He's Already so Big
It is hard to believe that Crew Gaines is already 10 months old, but we can see how big he has gotten in one of the latest pictures his proud mom has shared in her social media.
40-year-old former HGTV star Joanna Gaines took to her Instagram account on April 5 to share a lovely image of herself spending quality time with her youngest child in a beautiful cactus garden.
Little Crew not only won every heart with his cute laugh, but he also looks much grown as he approaches his first birthday, as several fans commented, also noticing a striking resemblance to his father Chip.
GUSHING FANS
"Growing so fast and what a grin. Looks like he may get the 'cheeky charm' from dad," a user wrote. "Oh my goodness he's getting so big," another user added.
Crew's adorable fat rolls were also subject of much gushing on the fans part and even his own mother, who called him her "little squishy" baby in the post's caption.
"Squishy babies are the best kind," someone stated. "Look at those chunky arms," a delighted follower stressed. "Ohhh the rubber band arms!!! I miss those days," wrote a fan.
LEAVING REALITY TV BEHIND
After five years devoting themselves to the home and renovation reality series that made them famous, the Gaines wanted to focus on their family life more and to further enjoy this, they were blessed with the arrival of their fifth child, Crew.
"I think Chip would agree that we're both homebodies. And that there's no place we'd rather be than at home with our kids. Over the years, we've managed to create five little homebodies too," Joanna told Parade in January.
"Since bringing home Crew [in July 2018], I've noticed that none of us are in a hurry to be anywhere but there. For Chip and me, there's nothing sweeter than that!"
-Joanna Gaines, Parade, January 4, 2019.
Apart from Crew, Joanna and Chip share another four children: Drake (14), Ella Rose (13), Duke (10), and Emmie Kay (9).
The children are credited alongside her mother as co-authors of their first children book, "We Are the Gardeners," published on March 26. The book is inspired by the family's shared passion for gardening.
Joanna and Chip have always put their marriage and family before anything else, but that has never stopped them from pursuing their dream enterprises.
They are also unafraid to close a chapter and take a new, more suitable direction for their growing family.
After they had their first two children, the couple chose to close their first Magnolia Market and diversified to the construction business with Magnolia Homes.
They trusted their business instincts and years later they were able to re-launch Magnolia Market in 2014, 11 years after the original.
Today, the couple owns several businesses in their hometown of Waco, Texas, and the two have become household names in America, as well as a symbol of creativity and good taste for millions of fans.
Please fill in your e-mail so we can share with you our top stories!