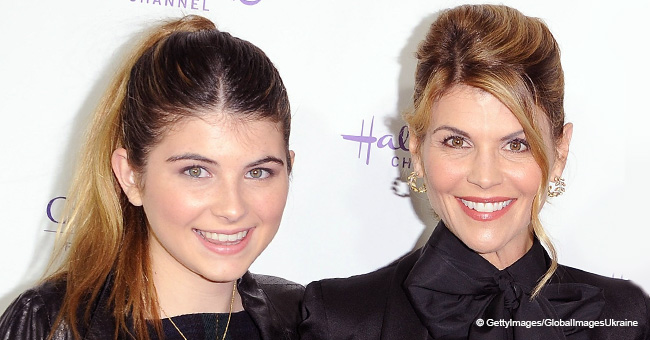 Lori Loughlin Caught Chortling and Hugging Her Daughter Isabella on Video Amid Bribery Scandal
Lori Loughlin was all smiles as she was spotted out and about with her daughter Isabella amid the college bribery scandal. The duo was seen hugging and laughing together as they waited for their ride.
Loughlin looked radiant with daughter Isabella at Beverly Hills as they hugged and laughed together. It is no secret that her life is far from happy at the moment with all the chaos brought in by the revelation of the college bribery scandal.
While the duo was seen enjoying their day together, Loughlin's elder daughter Olivia Jade was nowhere to be seen.
According to a source, Olivia knew about her parent's bribery scheme and is now "terrified" that she will have to testify in the court case. Loughlin and her fashion designer husband Mossimo Giannulli allegedly paid $500,000 to guarantee their daughter's admission to USC, making it appear like both their daughters had been rowers.
Following the scandal, Olivia and her sister Isabella dropped out of USC.
Olivia's career was blooming as a social media influencer before the news of her parent's involvement in the bribery scandal. She allegedly feels like her parents ruined everything by pushing her to go to college even though she did not want to. However, her sister Isabella was invested in college and would have loved to graduate from USC.
The social media star's career has been largely affected by the scandal. Thousands of fans have unfollowed her on Instagram and YouTube channel and she lost a business tie-up with makeup brand Sephora.
Loughlin and Giannuli were released for a $1 million bond each. Actress Felicity Huffman from comedy-drama TV series "Desperate Housewives" was also amongst the 50 people charged for the scandal. She pleaded guilty to mail fraud and honest services mail fraud.
Felicity could face up to 20 years in prison for bribing to facilitate cheating for her daughter, Sophie, for her SAT exams. The proctor even corrected her answers although she was granted twice the time to complete the exam.
Please fill in your e-mail so we can share with you our top stories!