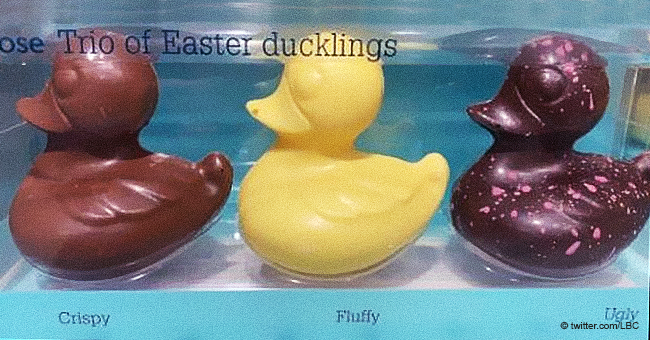 Twitter Bursting with Opinions after Chocolate Ducks Labeled 'Ugly' Were Accused of Being Racist
Waitrose UK stores had to pull a range of chocolate ducks when some people reacted badly to the products. The company was accused of being racist for a label they chose to use on one of the chocolate ducks.
However, some people found the outcry unwarranted as they felt the products weren't racist.
The UK Waitrose grocery store chain hoped to cash in on the Easter sales by launching the Waitrose "Trio of Easter Ducklings." However, the chocolate ducks had to be pulled from store shelves after some people complained they were "racist."
The range included a milk chocolate duck labeled "Fluffy," a white chocolate duck named "Crispy" and a dark chocolate duck with pink spots labeled "Ugly." Some people felt it didn't make sense why the company chose to label the darkest chocolate duck "ugly."
Some Twitter users tried to rationalize the company's thinking by pointing out that the label was a reference to the Hans Christian Andersen fairy tale "The Ugly Duckling." They also noted how the story had a happy ending for the outcast "duck."
In the story, a duckling was ridiculed for being different, but it later realized it was a beautiful swan and not a duck at all. Not wanting to chase away customers, Waitrose & Partners sent a statement apologizing for offending their clients.
Their statement read:
"We are very sorry for any upset caused by the name of this product, it was absolutely not our intention to cause any offence. We removed the product from sale several weeks ago while we changed the labeling and our ducklings are now back on sale."
Some social media users thought the incident trivialized racism and wondered why anyone would see race when they looked at the chocolates. Twitter user, David Meacock shared his opinion in support of the range.
He tweeted:
"I'm totally against racism but this is NOT racist esp. as in the orig story the Ugly duckling grows up to be the most beautiful of them all! The racists are not Waitrose or those using the trad labels of white, milk & dark choc, but those looking for racism where there isn't any."
On March 7, a Twitter user, Livia A. Aliberti, wrote: "Overheard women saying 'this is not right,' I agree, doesn't look good at all." Last Tuesday, in another tweet Aliberti thanked Waitrose for changing the packaging.
Please fill in your e-mail so we can share with you our top stories!