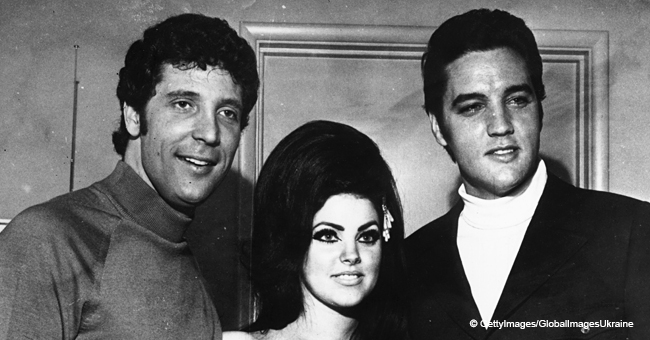 Here's How Rumors About Tom Jones And Elvis Presley's Widow Priscilla Developed Over the Years
The ex-wife of the legendary Elvis Presley denied the rumors that he is dating Tom Jones, 72, who recently lost his wife.
According to Priscilla Presley's own words, her relationship with Tom Jones dates back more than 5 decades ago and she stressed that they are only good friends. "Tom and I are friends since '68, it's true," she told Good Morning Britain.
The widow of the King of Rock and Roll spoke openly about the pictures of her with Jones enjoying an evening together that provoked rumors that they were leaving, adding: "That's not the first time we went out, obviously, but probably the first out in public, but always friendship, always friends."
Although his relationship with Jones has no romantic interest, Priscilla admitted that "[Tom] is a great man." Part of that was because he lost his wife, that was the love of his life, it was a kind of friends who came together to Support it. "
Jones also refuted claims that suggest he is in a romantic relationship with Priscilla. These rumors arose when the couple was seen arriving together at the Hollywood restaurant, Craig's, at the beginning of the year 2017.
After appearing in some headlines, Tom spoke about his relationship with Priscilla and said to the Sun: "We have been friends for a long time, she is a charming lady, we enjoy our nights together."
The Voice UK coach dismissed the rumors by insisting that the nightly outings with Priscilla were purely platonic.
Tom's wife, Lady Melinda Rose Woodward, died in April 2016 after a battle with cancer, and the Delilah singer spoke about the devastating loss in an interview with Lorraine.
"When she passed it was so sudden, in April, she found out she had lung cancer and it was too late, it was terminal, and it was very, very quick," he said. "So it really knocked the stuffing out of me because we'd been together since we were kids you see. We were kids together. And she has always been there, so it was a strange thing."
Tom and Linda had been married for 59 years. Tom knew Linda from age of 12 years, they got married at 16. Though Tom was accused of adultery in the past, their relationship was strong,
Tom even has a strange son he has never met in person although a judge ordered DNA tests proving his paternity and made him pay £1,700 a month towards Jon's upkeep until he reached the age of 18.
Please fill in your e-mail so we can share with you our top stories!