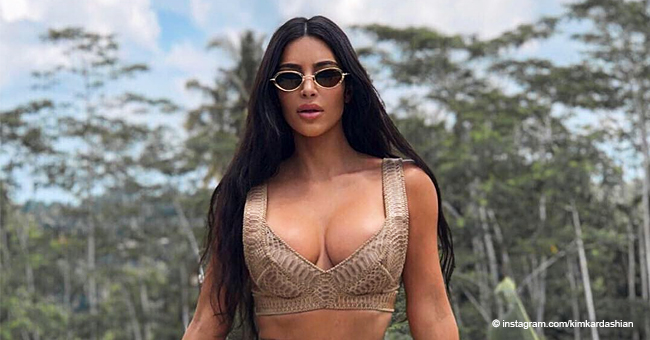 Kim Kardashian Bares Her Midriff in Snakeskin Bra and Curve-Hugging Mini Skirt
Fashion guru, Kim Kardashian West as always, looks gorgeous in steamy new Instagram photos.
Being an A-list fashionista, the KKW makeup founder never fails to serve classic finesse as she can get away with almost every fashion outfit she rocks.
The mother-of-three displayed ample curves in a skintight two-piece outfit which included a snakeskin top bra and matching mini-skirt. She wore her waist length hair in a free falling style while she also wore her "Kim K" trademark makeup.
Kim posed for the camera showing off several scintillating styles while her generous curves looked even more appealing. Kardashian West gave credence to the city of Bali, she said:
"Tonight on KUWTK we went to Bali, but I just got back last week. It is one of the most beautiful places I have ever been that I had to bring Kanye to experience the culture and feel the vibe of Bali, the most calming place on earth. Here are some pics from my trip"
The 38-year-old reality TV star has been a little off the spotlight in terms of fashion as her focus is directed towards a newly found interest in Law and Justice.
A few weeks ago, Kanye's wife was photographed leaving her car as she made her way towards her citadel of learning for a test. Kim's new interest isn't faltering despite the tedious lessons that come with studying law.
Her passion can be seen as intense because as at the time her interest was still budding, Kim K put in actions in seeing that justice prevailed in the cases of wrongly convicted persons.
Asides her passion, the classic beauty seem to show academic prowess as well. "Aced my test btw," Kim wrote on Twitter while speaking on a recent "tort" test she wrote.
Easter Sunday celebration amongst the Kardashian-West clan was spent in Kanye's Sunday service which held at the Coachella Music Festival in Indio, California.
Kim shared images of the event on social media while she also wrote on how proud she is of her husband as she explains the concept behind Kanye's Sunday services. Kim:
"Kanye started Sunday service for healing for himself and his close family and friends. He had this vision of starting a church for a few years, and it was magical seeing everyone else get to experience it. I'm so proud of you babe for doing exactly what's in your heart."
The lawyer-to-be recently revealed that she'd be taken her bar exams soon as she is about to finish her first year of study.
Please fill in your e-mail so we can share with you our top stories!