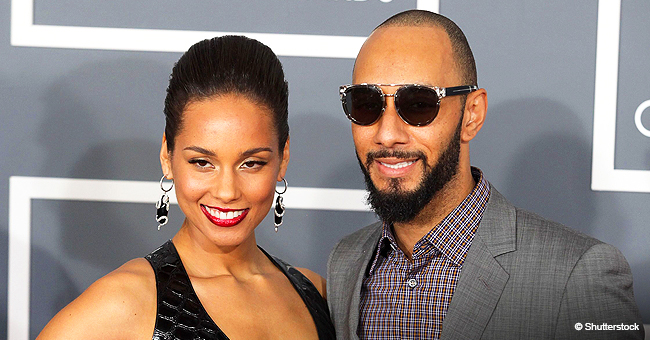 Alicia Keys and Swiss Beatz's Son, 4, Has His Own Drag Racing Car (Video)
Genesis Ali Dean, the youngest son of Alicia Keys and husband Swizz Beatz, seems to be pretty clear about what he'd like to do in life, and he's only 4. The boy is already driving racing cars on the track, and according to Swizz, Genesis' love for cars is on another level.
Music producer Swizz Beatz, real name Kasseem Dean, couldn't stop gushing about his 4-year-old, Genesis Ali, as the kid put on the necessary tracksuit and helmet to take on the race track for the first time at such a young age.
Dean, 40, made sure to capture the special moment on film and pictures, and later on, took to Instagram to share his excitement with fans.
"Proud daddy day. My lil man hitting the big boy track at 4yrs old. His determination is impeccable, and his love for cars is just different. He's making sure they can't trap him #27," Dean captioned a clip of Genesis's driving his little car.
The vehicle, red and with the number 27 on it, was made especially for Genesis, Dean explained on another clip. "He's so small they had to build a car for his size," he said.
Is not the first time Genesis shows off his love for cars.
He has been featured on his father's account carrying a model car around, and even driving another model more apt for kids.
While he enjoyed playing around with that toy car, in particular, Dean, always the jokester, took the chance to prank the little boy by telling him someone was accusing him of breaking down the vehicle.
However, Genesis stood up for himself, keeping a straight face while explaining he didn't break the car and making Dean burst into laughter when he claimed: "they trying to trap me."
Amused by her husband's antics, Alicia Keys shared the same video on her account, trying to defend her son from Dean's jokes: "LEAVE MY BABY ALONE @therealswizzz !!! My mama lioness is coming out grrrrr!! They tryna trap me tho??? CUTES," she captioned her post.
Keys and Dean married in 2010, and the same year, they welcomed their first child, son Egypt Daoud. Genesis came four years later, and the boys also have three more siblings from Kasseem's previous marriage.
Please fill in your e-mail so we can share with you our top stories!