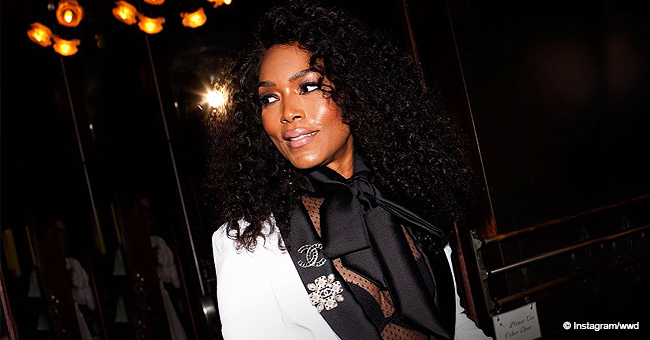 Angela Bassett Makes a Statement, Wears Bra as a Shirt (Photo)
Time is doing wonders for Angela Bassett, as she recently proved on the red carpet of a Chanel-hosted dinner party ahead of the Tribeca Film Festival.
The 60-year-old star rocked an edgy outfit that put her cleavage and mid-riff on display, earning praises from fans about her timeless beauty.
Angela Bassett is not afraid of pushing society's rules when it comes to age. Her beauty has only been exacerbated through the years, and her fashion style keeps elevating with every red carpet she steps on.
On a recent dinner party hosted by French-based fashion house Chanel—ahead of the Tribeca Film Festival—Bassett made heads turn rocking a white tuxedo over a see-through Greta Constantine pussy-bow bodysuit, and a black bra underneath that put her cleavage on full display.
She also donned tight black pants with thigh-high Casadei boots, a pair of Chanel brooches, and one of the luxury label's white handbags. Her hair was styled in voluminous curls, and she completed the ensemble with dangling silver earrings, a smoky eye, and a mauve lip.
"Hey, @helenachristensen I'll save this outfit so you can wear it 10 years from now! #noagelimitonawomenandherbeauty #gotyourback #oopssheworeonetoo #girlpower #tribeca2019 #Chanel," Bassett captioned an Instagram post showing off the outfit.
FANS REACTIONS
Fans were quick to react on her comment section, showering the "911" star with praises.
"You are Beautiful, Classy & STYLISH!!!" wrote one user.
Another added, "You are truly a force & I love you for being so inspirational."
And a third one chimed in to say, "I wish I could be a fraction as fabulous as this queen!"
REMEMBERING A FRIEND
Bassett's appearance came a day after she took to Instagram to post a heartfelt tribute to director John Singleton, who passed away last week, and with whom she worked on the film "Boyz 'N The Hood."
She wrote:
"I met @johnsingleton as a recently graduated first-time writer/director embarking on his nascent film career. I will forever remember him fondly from our first meeting during the audition process. He exuded many things that day... awareness, openness and above all-enthusiasm!"
And continued:
"Over the years he never lost or left any of that behind. He provided and possessed a clarity of vision that I appreciate from that day till this. He gave a voice and an opportunity to many. Count me in that grateful number."
Angela was appointed as one of the 50 actors, filmmakers, and entertainment industry professionals that judged the Tribeca Film Festival. She was in charge of evaluating the International Narrative Competition contestants.
Please fill in your e-mail so we can share with you our top stories!