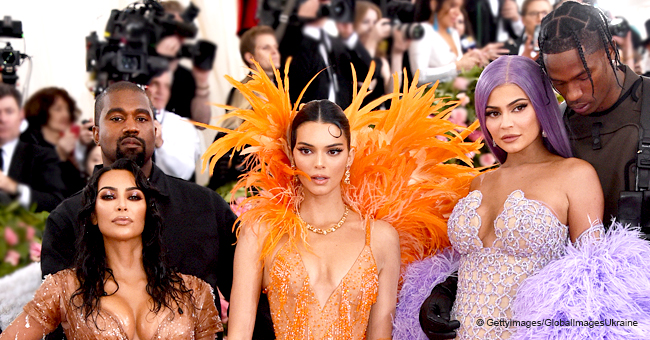 Kardashian-Jenner Family Mocked for Chic Family Photo Taken on the Met Gala Red Carpet
This year's Met Gala had the Kardashian-Jenner clan show up on the red carpet rocking their "camp" style fashion but netizens weren't very appreciative of their efforts.
For the first time since 2016, Kanye West showed up at the gala by Kim's side as the clan strutted their outfits for the camp-themed event in New York.
Kim Kardashian went for the "wet" look in a latex Thierry Mugler dress with wet hair, dripping beads, and glossy eyelids while Kanye looked more sleek casual. For the evening he donned an all-black outfit and a zip-up jacket.
While on the red carpet, Kim told Vogue more about the inspiration behind her outfit. "This is the first time in 20 years Mr. Mugler has designed for the House of Mugler. So to come and design this gown for me is such an honor," she said. "This is about eight months in the making … He envisioned me this California girl stepping out of the ocean, wet, dripping."
Kris Jenner was almost unrecognizable in her navy blue custom Tommy Hilfiger jumpsuit and a blonde wig, while her date and longtime boyfriend, Corey Gamble, color matched a blue ascot.
A massive feathered orange gown and slicked back hair made Kendall Jenner turn heads while the youngest, Kylie followed suit in a lavender gown and a matching wig. Boyfriend Travis Scott looked combat ready in a brown and black ensemble by Dior Men.
"We kinda decided to go for it. Kylie and I worked on it and we came up with a fun vibe with Donatella [Versace]," Kendall told E! News. "My dress has a lot of feathers at the bottom, so I almost tripped myself but, yeah. I saw pictures, she's a rock star and I love her. She's amazing."
However, many netizens didn't feel as enthusiastic about their efforts and referred to it as a "mess" while others accused them of looking "artificial."
Kardashian sisters Kourtney and Khloé notably missed the Met Gala this year as Kourtney seemed to be relaxing at a resort while Khloé spent time with her daughter True at home.
They have also never attended a Met Gala and with both of them single, they are in no rush to change their relationship statuses.
Khloé Kardashian became single earlier this year after Tristan Thompson's cheating drama in February sent him packing for good. Kourtney, on the other hand, is casually dating and in a good place with her ex Scott Disick as they have become good co-parents to their three children, Mason, Reign, and Penelope.
In the latest season of "Keeping Up with the Kardashians," Khloé, Kourtney, and Kim traveled to Bali at the end of April, where visits to several mediums caused Khloé to open up about Tristan Thompson's first cheating scandal.
Please fill in your e-mail so we can share with you our top stories!