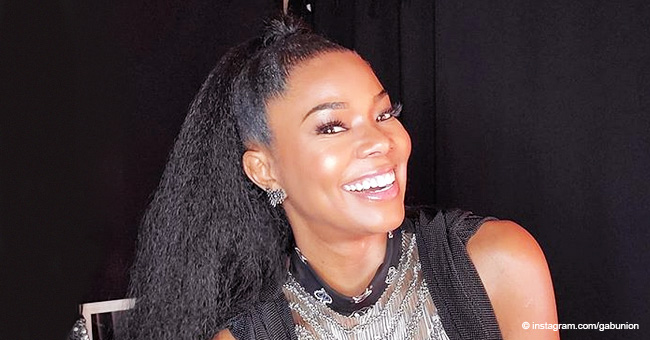 Gabrielle Union's Baby Kaavia Flashes Smile While in Playground Swing (Video)
Actress Gabrielle Union shared an adorable clip on Instagram of her gorgeous "Shady Baby" Kaavia.
Gabrielle Union has delighted fans with yet another episode from the "Shady Baby" saga, starring her adorable daughter Kaavia.
The actress shared a video of Kaavia on Instagram and garnered over 300,000 likes in under 24 hours.
"Laughing at yall suckas...at the playground ??"
"SHADY BABY" HITS THE PLAYGROUND
The clip shows Kaavia bopping in a baby swing to the sound of Another Bad Creation's hit song "Playground."
The four-month-old is actually smiling, and showing off her first tooth as she obviously enjoys the fun.
Union shares Kaavia, who was born through a surrogate, with Wade, who has three sons from previous relationships.
"SHADY BABY" HAS NO TIME FOR BABY TALK
Union has revealed that Kaavia has a strong personality - and it shows - and she has no time for baby-talk. She will shine on people who address her with "goo-goos," and pay close attention to those intent on a serious conversation.
"She does not do baby talk. She'd prefer to listen to CNN over baby talk any day. She's not with that. You can have a normal conversation with her and she'll react," revealed Union.
"SHADY BABY" WANTS WHAT SHE WANTS
Kaavia is already giving clear indications that she is going to be quite a handful for her parents in the years to come.
"She's very specific. She likes what she likes, and she doesn't [like] what she doesn't," shared Union.
"SHADY BABY" IS DADDY'S GIRL
According to Union, Kaavia is the apple of husband Dwyane Wade doting eye.
"There are a bunch of boys [in our house], and he's like, 'yeah, yeah, whatever. But with Kaav, she drools and he's like, 'Oh my gosh,'" she revealed.
Union shares Kaavia, who was born through a surrogate, with Wade, who has three sons from previous relationships.
"SHADY BABY" ON A MAGAZINE COVER
Not content with being a social media star at 4-months-old, Kaavia James Union Wade has taken her first steps in her future career as a supermodel.
Kaavia, who boasts 677k followers on Instagram, is now on the cover of Parents Magazine. Mom, actress Gabrielle Union, is there to hold up the super baby.
"My favorite cover yet. #shadybaby is on magazines stands... world watch out. @kaaviajames is already my kinda girl and is my forever #wcw."
Union has revealed that she and husband Dwyane Wade are considering creating a brand of children's wear called "Shady Baby" in honor of their adorable daughter.
Please fill in your e-mail so we can share with you our top stories!