Michelle Obama Glows in Purple Silk Suit & Black Sequin Bustier on 'Becoming' Book Tour
Former first lady Michelle Obama dazzled in violet discussing her bestselling memoir, "Becoming," with Gayle King.
Michelle Obama dazzled the audience at the packed State Farm Arena in Atlanta, Georgia during an interview with CBS' Gayle King.
The former first lady captivated her audience with her wit, and her inimitable style in an unusual, eye-catching pantsuit.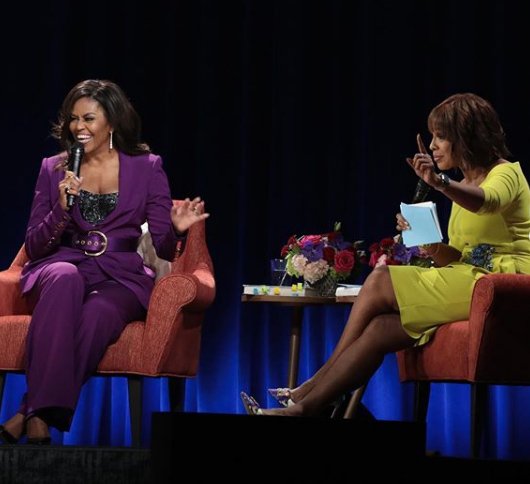 "We owe it to the young people in the world to be better. To be decent." Michelle Obama
MICHELLE OBAMA OPENED UP TO GAYLE KING
For Michelle, Atlanta was the penultimate stop in her world tour, promoting her best-selling memoir, "Belonging," and she dressed to impress in a deep violet pantsuit, teamed with a sequined black bustier.
For King, 64, this interview is yet another feather in her cap in what is turning out to be the most successful year yet of her career. King wore a sunny yellow frock, accessorized with a dainty bouquet of blue forget-me-nots.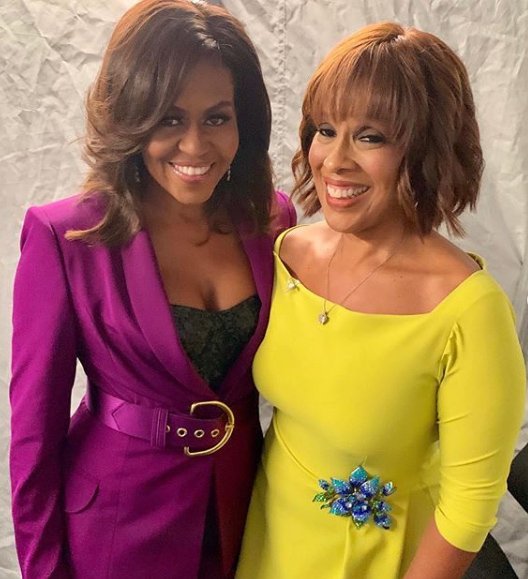 90 MINUTES NON-STOP CONVERSATION WITH MICHELLE OBAMA
The former first lady and King sat down to discuss her memoir, and the conversation touched on her time in the White House, her marriage, and her views on motherhood.
"Becoming" has sold more than 10 million copies and is considered one of the best-selling memoirs of all time.
MICHELLE OBAMA'S MESSAGE TO THE YOUNG
Michelle spoke directly to young Americans appealing to them to assume a more active role in the political life of the country.
"I've been at probably every powerful table there is in the world. And I am coming down from the mountaintop to tell every young person that is poor, and working class, and that was told, regardless of the color of your skin, that you don't belong: Don't listen to them. They don't even know how they got in those seats," she said.
MICHELLE OBAMA ON AMERICA'S FUTURE
The former first lady spoke enthusiastically of the US's future as bright and hopeful and revealed that she and her husband former president Barack Obama would not be endorsing any of the Democratic Party's 2020 presidential nominees, including Obama's former Vice President Joe Biden.
"Barack and I are not endorsing in the primary because we want to support whoever wins," she said.
Michelle told King that she will not be running for President, although there have been several appeals for her to do so. 
Former first lady Michelle Obama was voted the woman most admired by Americans this year, knocking Hillary Clinton from the top spot on the list for the first time in 17 years, according to a Gallup poll released Thursday https://t.co/MVORDITwiv

— CNN (@CNN) December 27, 2018
MICHELLE OBAMA MOST ADMIRED WOMAN IN THE WORLD
Former First Lady Michelle Obama was named the most admired woman in the world by Americans.
She ousted former First Lady Hillary who had been occupying the #1 slot for 17 years on the Gallup's annual survey, published on December 27, 2018.
Michelle has taken the honors for the first time, due to the publication of her memoirs "Becoming," in November 2018. The former First Lady's book outsold Hillary's "Living History" in the first week on the shelves by a wide margin.
"Becoming" has sold more than 10 million copies and is considered one of the best-selling memoirs of all time.