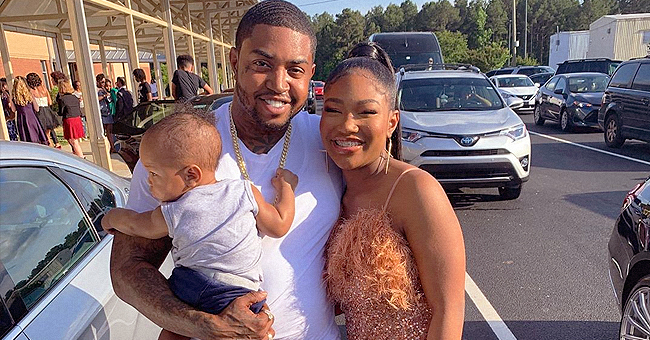 Instagram/reallilscrappy/
Lil Scrappy & Erica Dixon's Daughter Wowed in Glittery Dress & Heels for 8th Grade Formal
Lil Scrappy and Erica Dixon's daughter, Emani Richardson, was a sight to behold at her 8th-grade formal dance, and her parents couldn't be prouder of the gorgeous lady she has grown to be.
Emani Richardson is going into the ninth grade and recently attended her formal dance at school to celebrate. The 14-year-old looked gorgeous in pics of the big day shared by her and her parents on Instagram.
She wore a sparkly orange dress with feather details on the top and bottom and completed the look with nude strappy sandals, cross earrings, and her long hair tied up in a high ponytail.
Erica and Lil Scrappy couldn't stop gushing about their daughter, showering her with praises and stating how proud they are of her.
HER PARENTS' PRIDE
Dixon, who welcomed twin girls just a week ago, said that didn't stop her from helping Emani get ready for her dance. "For her, I always will," she wrote. "Delivered my twins a week ago and still got her together for formal. I will always provide everything she asks for and more."
"This young lady has always and forever have my heart and yes I'm wrapped around her finger."
Scrappy, on the other hand, said he couldn't believe how much Emani his "princess has grown." "Had to post the whole pick of my amazing and astonishing princess sorry not sorry she's drenched," he captioned one of the pics he shared.
Even Emani was aware of killing the game, as she posted a series of clips and pics on Instagram and stated: "You could neva. I definitely snapped."
FANS' REACTIONS
Fans of the former "Love & Hip Hop: Atlanta" couple took to the comment section to share their thoughts on Emani's look, with most of them agreeing she looked beautiful and her dress was age-appropriate.
"I love mother like you!! This is soooo cute & appropriate for her age. She is as beautiful as you," one user wrote on Erica's page.
"She looks like Scrappy with your cheeks and smile!! She is gorgeous. Hope she enjoyed formal," another pointed out.
A third person commended Scrappy for being such a good father, writing:
"I love that you are there for every moment of your baby girl highlights!! Hats off dad!! Keep doing your thing!! She is BEAUTIFUL!!"
A LOOK INTO THE PAST
A few days before the formal dance, Scrappy got a bit nostalgic and shared an old pic from Emani's kindergarten graduation. In the adorable frame, little Emani was donning her graduation gown and holding a flower bouquet, while Scrappy smiled next to her with pride.
He captioned the post:
"#tbt man this was when my princess @official_emanii graduated from kindergarten, and now she's going to the 9th grade man time flies lol, this young lady has always and forever have my heart and yes I'm wrapped around her finger lol."
A ROCKY CO-PARENTING RELATIONSHIP
Erica and Scrappy welcomed Emani in 2005, soon after, they split.
These days, both have moved on and have their own families: Scrappy with wife Bambi Benson, with whom he shares son Breland, and Erica with an unknown man with whom she recently welcomed twin baby girls.
Although most fans believed Erica and Scrappy had an excellent co-parenting relationship for Emani's sake, it was recently revealed on an episode of "L&HH: A" that they don't even speak to each other.
Dixon explained to Scrappy's mom, Momma Dee, that her relationship with Scrappy and Bambi is non-existent, even though she tried to reach out to both of them to set the record straight.
However, neither Scrappy nor Bambi seemed to be worried about the situation.
"There's nothing that I have to say to Erica. There's nothing that she has to say to me. I pay the State; the State pays her. What else do you need?" Scrappy stated on the show.
Bambi agreed with her husband, adding that "the situation that is currently in place works for everybody."
Please fill in your e-mail so we can share with you our top stories!