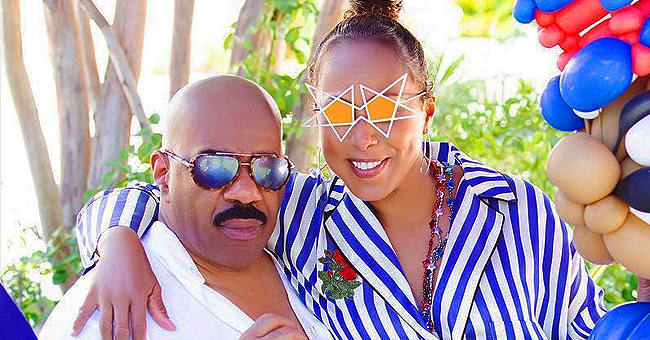 Instagram/marjorie_harvey
Marjorie Harvey Reacts After Steve's Daytime Talk Show Is Canceled (Video)
Days after NBC announced the cancellation of Steve Harvey's talk show, and his removal from the host spot on "Little Big Shots," his wife Marjorie Harvey showed him her support on social media. However, despite this setback on her husband's career, Marjorie seems unfazed.
Marjorie Harvey has become her husband's number one supporter through the years, and in the wake of his recent work complications, she has made sure to be with Steve every step of the way.
On May 9, when the last episode of "Steve" was taped, Marjorie was with him on set and recording him addressing his audience and talking about the cancellation of the show.
"This is good, though, man. You gotta understand how it works," he said during the final taping of the seven-years-running program. "See, your life ain't nothing but a book. I happen to be 62-years-old. I am in the middle of my 62nd chapter."
And continued:
"Had some good chapters, had some bad chapters. Had some chapters that lasted a little bit longer than I wanted to. That homeless chapter way too long, … But in this 62nd chapter, I got my finger on the corner of the page. All I'm doing is I'm about to turn it. I can't wait to see what God got for me on that other page."
"So proud of you baby! Let's go do this #harveys #nextlevel #staytuned," Marjorie captioned the clip.
Judging by her less than emotional reaction, which is instead replaced with a sense of excitement for the future, it's clear that Marjorie and Steve's lives haven't been that affected by the new developments in his career.
THE END OF AN ERA
According to Variety, "Steve" will be airing new episodes until June and then re-runs until September, when the slot will be taken by Kelly Clarkson's new show, "The Kelly Clarkson Show."
On top of that, Harvey will no longer be hosting "Little Big Shots" and will be replaced by actress and comedian Melissa McCarthy.
NBC's co-chairman Paul Telegdy confirmed this when he explained that McCarthy's entry into the show would bring a "fresh perspective" to it. Harvey was a mainstay of the kids' program for three seasons.
In an interview with People in 2016, Harvey reflected about the possibility of losing one of his shows while talking about the significant strides he made in life, from being homeless to becoming one of the most seasoned TV hosts in the U.S.
"I'm running from homelessness," he said back then, revealing his contingency plan. "I can't ever be in that position again. If my show gets canceled, I've got three more. I don't have any free time, but I have 12 jobs."
ARE MORE TROUBLES ON THE WAY?
While Steve faces the end of an era, he and wife Marjorie might have to deal with some ghosts from her past in the form of her ex-husband, convicted drug lord Jim L. Townsend.
Several reports, which all link back to Radar Online, state that Townsend has written a tell-all memoir book about his marriage to Marjorie in the '90s. "I wrote two-thirds of the book in prison," he allegedly told the outlet. "I'm going … [to] tell my story. It doesn't matter [if she knows about it]."
Back then, Marjorie was allegedly under FBI and DEA investigation for her relationship with Townsend, who was labeled a drug kingpin. According to some reports, Marjorie was suspected of playing a role in the drug ring, although she was never charged with any crime.
Townsend was arrested during an undercover operation and was sentenced to life in jail in 1992 for "conspiracy to possess with the intent to distribute" cocaine. According to Department of Justice records, he was commuted by former President Barack Obama in January 2017.
Meanwhile, Marjorie and Steve slammed rumors about divorce and bankruptcy with a hilarious video shared to Harvey's Instagram, letting their fans know that after 11 years together, they're still going strong.
Please fill in your e-mail so we can share with you our top stories!