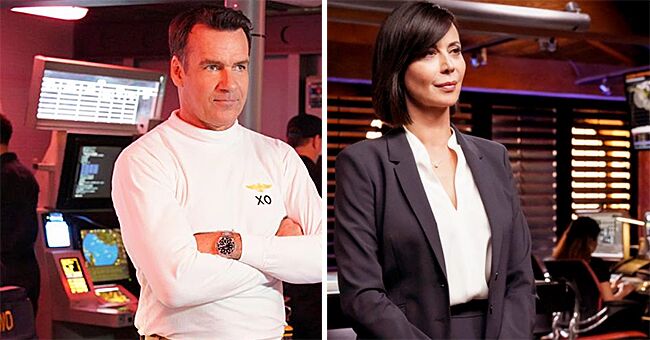 twitter.com/NCISLA
NCIS: LA Fans Call Season 10 Finale a 'Total Let down'
"NCIS: Los Angeles'" JAG reunion was far from what fans had and mind, and frankly, they're quite upset over the heartbreaking reunion of Mac and Harm.
While NCIS' previous episode, "The Guardian," gave the audience excitement over Captain Harmon "Harm" Rabb Jr.'s (David James Elliott) return, the next episode, "False Flag," broke their hearts over a total let down from the hype it began.
This week's episode delved into the investigation of potential terrorists that "The Guardian" previewed. Hetty (Linda Hunt) phoned Lieutenant Colonel Sarah "Mac" Mackenzie (Catherine Bell) to seek help regarding the Russian diplomat.
Mac's appearance was a staggering inclusion during the episode as it was her first appearance since 2005's "JAG" finale. Sadly, the teased reunion failed to deliver what the viewers thought it projected, having Mac and Harm speak only through satellite hookup -- hence, it's not really a reunion.
"False Flag" also revealed the relationship Mac and Harm had, being engaged at one point, but breaking up as soon as Harm's ranks rose in the Navy.
The tension-filled scenes were quickly addressed by avid viewers and Twitter users, expressing their sentiments over the failed "JAG" reunion. One fan said that she was "pissed" because the two were "not even in the same room."
"I prefer not to know and imagine happy ending for them. Now I hate that reunion happening @NCISLA !!" read another tweet.
After the release of the prior episode, fans also took to Twitter their emotions, mostly of overflowing joy, over Harm's return, emphasizing the "JAG" theme song that played during his entrance, adding an extra emotional feel to it.
"NCIS: Los Angeles" showrunner and "JAG" vet, R. Scott Gimmell, spoke about Harm's reappearance with TVLine in March. He said:
"Bringing Harmon Rabb to work with [the Los Angeles NCIS team] makes for a formidable coalition, and both entities are going to need all the help they can get when confronted with the greatest challenge of their careers."
Please fill in your e-mail so we can share with you our top stories!