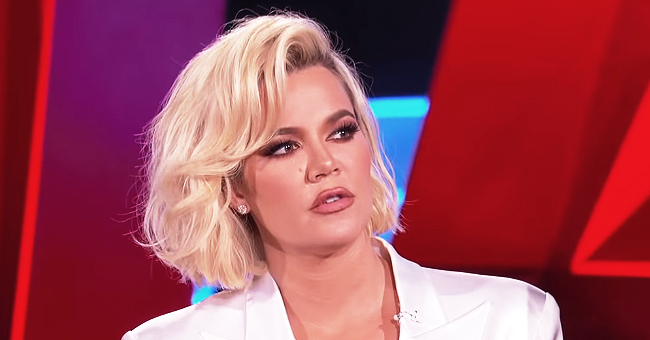 Youtube/Jimmy Kimmel Live
Why Khloé Kardashian Claims She Has No Interest in Dating (Video)
Khloé Kardashian is holding off on dating and romantic relationships to focus on herself and her daughter True Thompson following her ex-boyfriend Tristan Thompson's cheating scandal.
Khloé's history with men have been anything but pleasant, first with her cheating and drug-abusing ex-husband Lamar Odom and more recently with Tristan, her baby daddy who allegedly cheated on her multiple times.
KHLOÉ'S FOCUS
It's no surprise then that the "Keeping Up With the Kardashians" star is keeping off men for now. She recently sat with divorce attorney Laura Wasser on the podcast "Divorce Sucks" and although she's not ruling out marriage, Khloé insists dating is off the table right now.
"I'm not even thinking like that," Khloé said in a clip published by TMZ. "I'm not on [dating apps], but I don't care to be. I am so in love with [my daughter] True and being with her and enjoying every minute."
"I'm working on myself. I'm just happy and I want to filter through whatever I think I need to filter through, but my focus right now is on True. I don't feel a sense of urgency to be in a relationship or even to go on a date. I don't want to."
KHLOÉ & TRISTAN
Khloé and Tristan's relationship had been plagued with infidelity allegations right from the start.
The NBA star was allegedly cheating on Khloé while she was pregnant last year with their daughter, True, but the last straw was in February when reports surfaced of him making out with Jordyn Woods, who was like a sister to Khloé.
FOR THE SAKE OF TRUE
Despite the controversy that erupted from that scandal, Khloé was able to remain civil toward Tristan when the duo met last month at the birthday party she held for True.
The mom-of-one explained that she's making the sacrifice so that True can have a healthy relationship with both parents.
"True is one-and-a-month old, so she doesn't really know what's happening, but to me, she does know," Khloé said. "And she feels energy, and I'm a big believer of that, so I do everything in my power to not put any sort of heavy energy around her."
A MOTHER'S WISH
The "Good American" entrepreneur further emphasized that having Tristan at True's birthday party is her way of making sure her daughter enjoys the kind of childhood she [Khloé] had with her famous sisters.
"I didn't do it because I thought she was going to remember this first party. It was really for me. I just wanted a happy, heavenly place, but I know that she's gonna wanna look back at all of her childhood memories like we all do. Me and my sisters, we will sit on the floor looking at our old photo albums. I wanna give her the same thing."
"I know her dad [Tristan Thompson] is a great person," Khloé concluded. "I know how much he loves her and cares about her, so I want him to be there, and it was civilized, and we did it."
Please fill in your e-mail so we can share with you our top stories!