Ayesha Curry Slams Troll Who Body-Shamed '30-Lb' Baby Canon & Suggested 'Portion Control'
Celebrity chef Ayesha Curry slapped down Internet trolls who fat-shamed her adorable 10-month-old baby son.
Living in the public eye and handling the pressure of public opinion is part of being a celebrity - but Ayesha Curry drew the line when trolls targeted her baby.
The celebrity chef and mother-of-three reacted when several people criticized baby Canon's weight on an Instagram post.
AYESHA CURRY REVEALS BABY CANON'S WEIGHT
The exchange began after Ayesha posted a group photo in which she was holding Canon and a fan asked if she was pregnant.
Ayesha replied that she was jutting her hip because Canon weighs a hefty 30 pounds, and was placing a strain on her back.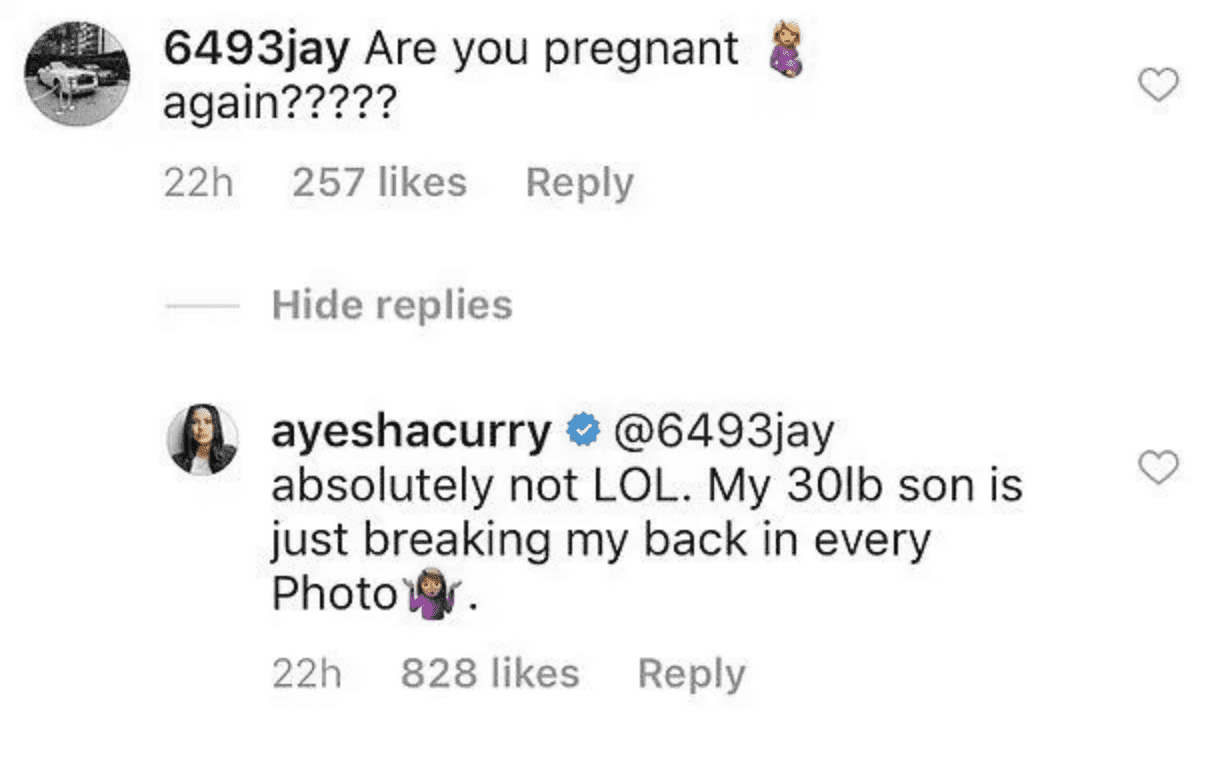 AYESHA CURRY'S REVELATION SETS OFF AVALANCHE OF CRITICISM 
Immediately several people commented on the post, telling Ayesha that her son was too heavy for his age, and some even suggested she place the 10.month-old Canon on "portion control."


AYESHA CURRY'S RESPONSE
Ayesha's response to the notion that she put her baby on a diet was short and terse.
"Excuse you? No. Just no." she replied.
The troll responsible for that particular suggestion subsequently removed his or her comment.

Boy babies are usually larger than girls, and second and third babies tend to weigh more at birth than first-borns. 
AYESHA AND STEPH CURRY'S ADORABLE FAMILY
Baby Canon is Ayesha and basketball player Steph Curry's third child, and the only boy. He has two adorable sisters, Riley Elizabeth, 6, and Ryan Carson, 3. 
The celebrity couple, who met when they were 15 and 14 years old in a church group in Charlotte, North Carolina, have been married for 8 years.
BIG BOUNCING BABY CANON
Even though Canon is indeed a big baby, there is no indication that he is anything but a happy and healthy child. 
Boy babies are usually larger than girls, and second and third babies tend to weigh more at birth than first-borns. 
The incident over Canon's weight comes just days after Ayesha opened up about the postpartum depression she suffered after her second daughter Ryan's birth.
CANON CURRY SUPPORTS DAD
Baby Canon made history by supporting his dad basketball player Stephen Curry at the recent Golden State Warriors' game against the Charlotte Hornets on March 31, 2019.
Canon and his grandfather Dell Curry were there to cheer his NBA All-Star dad on, and it was the first time three generations of Curry men had been together at a basketball court.
Dell, 54, is a star player himself and retired as the Charlotte Hornets' all-time leader in 2002 with 9,839 points.
Since talent seems to run in the family, hopefully, one day, basketball fans will be cheering Canon Curry on the court, while his proud dad and grandfather watch from the sidelines.