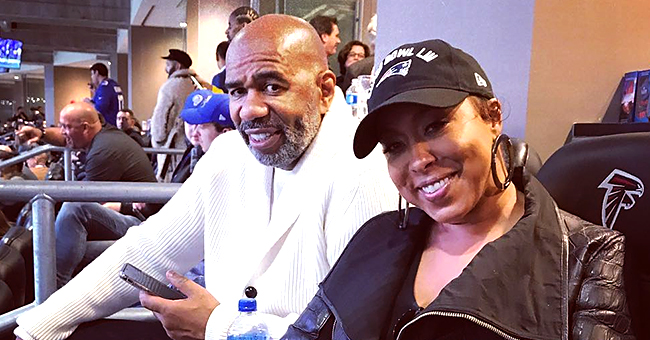 Instagram/marjorie_harvey
Steve Harvey's Grandson Ezra Crawls to Grandma Marjorie in Adorable Video
Marjorie shared a video of Steve Harvey's fifth grandchild, Ezra, who has just started crawling.
Steve and Marjorie Harvey are the proud parents of 5 grandchildren, and the youngest of the bunch, Ezra, has just achieved an important milestone.
Sweet Ezra has just started to crawl, and Marjorie captured the event on video and posted it to Instagram.
"Ezra doing a little early morning exploring...... abandoned toys to check out the trash can ??‍♀️??#babyonthemove#sweetbaby #grandchildren" Marjorie Harvey
BABY EZRA - MEDIA STAR
The adorable clip has been seen by over 240,000 people and shows Ezra in a onesie crawling towards a trash can he is clearly intent on inspecting.
Marjorie can be heard off-camera luring Ezra away, and he happily crawls towards her instead.
Harvey is a doting grandparent to his three grandsons Ezra, Noah and Benjamin, and two granddaughters, Rose and Elle.
STEVE HARVEY - FAMILY MAN
The famous comedian and talk show host is the father of four biological children, and he has raised Marjorie's three children as his own.
"I've been waiting years for my kids to get out of my house. (...) Now they come back to the house and they got more people with them. They always bring them over and drop them off. And I'm going 'Now, I been talking to my girl all day long. All we been talking about was what was going to happen tonight. Then, I get to the house and here they is!" he said.
STEVE HARVEY IS DEVOTED TO HIS CHILDREN
Despite his tongue-in-cheek claims, Harvey is devoted to his children and grandchildren and is never happier than when he is surrounded by his 7 children and 5 grandchildren.
MARJORIE HARVEY IS A DOTING GRANDMOTHER
Marjorie's Instagram account is full of posts of photos and videos of their grandchildren - and so is Harvey's. The couple is clearly enjoying watching their 5 adorable grandchildren grow.
Now that he has more time since his talk show was canceled and he was substituted on "Little Big Shots" by Melissa McCarthy, Harvey will have more time to spend with his beloved family.
STEVE HARVEY TALKS TO ELLEN ABOUT BEING A GRANDDAD
Steve Harvey opened up to Ellen on the "The Ellen DeGeneres Show" and he made some startling revelations about how he feels about being a grandfather.
Harvey told Ellen that he won't play with the children until they gain what he called "head control" and can utter at least two words.
Harvey claims that the fun part of being a grandfather is that the kids visit for a short time and then go back home to their parents.
The truth of the matter is that Harvey is a doting grandparent to his three grandsons Ezra, Noah and Benjamin, and two granddaughters, Rose and Elle.
Please fill in your e-mail so we can share with you our top stories!