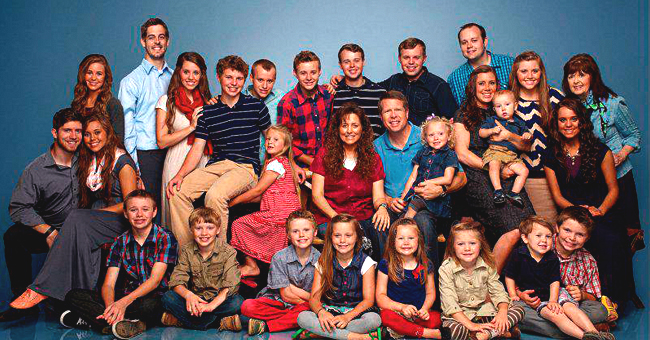 twitter.com/thedailybeast
Do You Know the Duggars? Complex Guide to the Large Duggar Family Tree
The Duggar family shot to stardom with their hit reality series, "19 Kids and Counting." Since it debuted in September 2008, the series rapidly turned into TLC's most favorite show, with millions of viewers.
After the show's cancellation in 2015, fans kept on following the giant family on their follow-up series, "Counting On," as well as on their social media pages.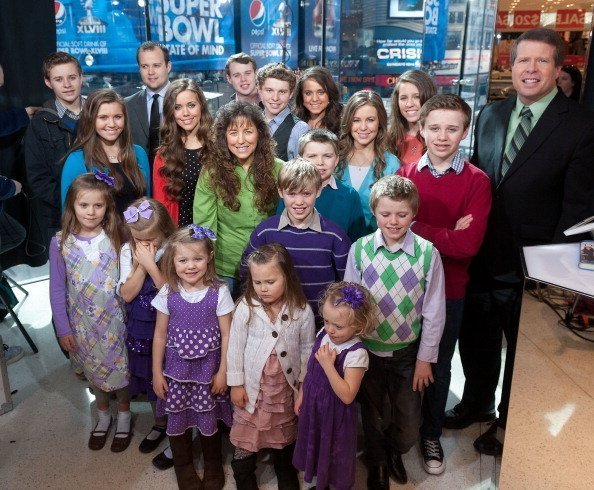 The Duggar family at H&M in Times Square on March 11, 2014 in New York City | Photo: Getty Images
Led by parents Jim Bob and Michelle, the Duggars currently consists of 19 children, eight sons- and daughters-in-law, and 13 grandkids — and counting.
It can be challenging to keep track of everybody as the eldest Duggar children are growing up, getting hitched, and having children of their own. According to PEOPLE, here's a comprehensive guide to the famous family.
JIM BOB & MICHELLE
The couple tied the knot in July 1984. They waited four years to have their first child, Josh. Unfortunately, Michelle suffered a miscarriage after getting pregnant again.
Believing the miscarriage happened because she was taking birth control and didn't realize she was pregnant, Jim Bob and Michelle chose to let God "bless them with as many children as he saw fit."
JOSH
Josh and his wife Anna got married in September 2008. The couple shares five children — daughter Mackynzie, sons Michael and Marcus, daughter Meredith Grace and a baby boy named Mason Garrett.
In April 2019, Anna revealed that they are expecting their sixth child together.
JOHN DAVID
In November 2018, John David tied the knot with Abbie Burnett. He works as a firefighter and first responder as well as in construction.
JANA
Jana is also twins with John David. As of now, she's single and once admitted that she hasn't found the one.
JILL
Jill married Derick Dillard in June 2014 in Springdale, Arkansas. The couple are parents to two sons: Israel David and Samuel Scott.
JESSA
Jessa married Ben Seewald in November 2014. The couple has three children — Spurgeon Elliott, Henry Wilberforce, and Ivy Jane.
JINGER
Jinger got married to Jeremy Vuolo in November 2016. The couple shares a daughter named Felicity Nicole.
JOY-ANNA
Joy married husband Austin Forsyth in May 2017. The couple are parents to son Gideon Martyn. In May 2019, they announced that they were expecting baby No. 2.
JOSEPH
In September 2017, Joe tied the knot with Kendra. They have a son named Garrett David and announced in April 2019 that they were expecting their second baby.
JOSIAH
Josiah married wife Lauren in June 2018. After a previous miscarriage, the couple announced that they were expecting a child in May 2019.
JEDEDIAH
Jedediah works in lawn care and real estate maintenance. He plans to be a real estate agent.
JEREMIAH
Jeremiah is also twins with Jedediah. He works in lawn care and as a handyman.
JASON
Jason plans to become a videographer.
JAMES
James wants to be a pilot someday.
JUSTIN
Justin plans to be a mechanic.
JACKSON
Jackson wants to be a translator and missionary pilot someday.
JOHANNAH
Johannah's plans include turning into a doctor.
JENNIFER
Jennifer plans to become a veterinarian.
JORDYN-GRACE
When she grows up, Jordyn wants to be an artist.
JOSIE
Josie, who was born prematurely during an emergency Caesarean section, plans to become a cook.
Please fill in your e-mail so we can share with you our top stories!