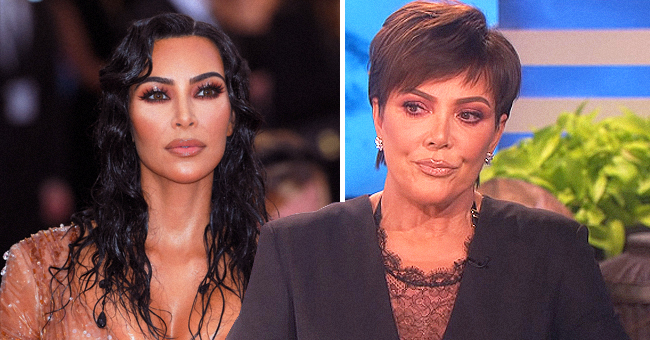 Youtube/TheEllenShow
Kris Jenner Cries After Kim K. Takes Charge of Christmas Party in 'KUWTK' Promo
Momager Kris Jenner wept as her oldest daughter Kim Kardashian-West announced that she was taking over the family Xmas party.
Kris Jenner, the matriarch of the Kardashian clan was shocked and tearful when faced with her children's determination to change a family tradition.
Kim Kardashian-West faced down her mother and told her she would be changing the venue of the family Christmas party to her own home.
"I just think the kids have evolved from having it just be your friends. It's kind of like, this older party." Kim Kardashian
KRIS JENNER IN TEARS OVER CHRISTMAS PARTY
The Kardashian-Jenner Christmas Eve party has always been a lavish event, reportedly costing up to $1.3million, hosted and organized by Kris.
When her daughter Kim advised her that her children wanted some changes - including the venue - Kris was in tears.
Kris Jenner is also upset over her children's attitude towards her new boyfriend Corey Gamble.
KIM KARDASHIAN: "THERE'S LITERALLY PEOPLE WE DON'T KNOW"
Kim pointed out to her mother that the children are growing, and that the Christmas party is mostly attended by Kris' friends. Kim and her siblings want a more mixed group of guests, that includes their own friends as well as family.
"We want it to be a place that we can just have fun and it's all of our friends and definitely family and my mom's friends, too. But a good mix of both so we can have a good time and really just enjoy each other," she said.
FUN FAMILY CHRISTMAS FOR THE CHILDREN
The siblings definitely want to move away from the sophisticated bashes Kris usually throws to a more family orientated celebration.
"Our Christmas Eve party was always this fun party that I just remember being friends and family and my grandparents and cousins. It was just the best night ever..." Kim said.
THE PASSING OF THE TORCH
The mother-daughter conversation turned emotional, and Kris was in tears, but Kim assured her:
"I want you to give us your blessing. I don't want to just steal it from you," she said.
A tearful Kris did giver her oldest daughter her blessing and soon had Kim weeping too.
"No, I want you guys to be able to do this until you're my age and one of your kids takes over — that's the joy," Kris said.
We can look forward to a very different KUWTK party this Christmas, and since Kanye West is participating in the organization, it should be great fun.
KRIS JENNER AT ODDS WITH HER CHILDREN OVER BOYFRIEND
To Kris' distress, Khloé Kardashian and Kanye West joined up to slam Gamble. Kanye sent Corey some rude texts, and Khloé backed him up.
Kanye, who has shown an almost fatherly concern for Kris, pointed out that they know nothing about Corey or where he comes from.
Gamble, who reportedly used to be a road manager with Justin Bieber's manager Scooter Braun and SB Projects, is from Atlanta and had never introduced Kris to his family.
Kris called her family out for disrespecting her beau, and Khloé reluctantly apologized, though Kanye remained unrepentant.
Please fill in your e-mail so we can share with you our top stories!