Fans Label Prince George a 'Mood' as a Hilarious Video of His Waving Goes Viral
Prince George is all of us on a lazy day when we're forced to go out and fulfill our duties. Of course, the young prince has royal duties, but for right now, they involve little more than waving. 
On Saturday, the young prince attended Trooping the Color, the Queen's birthday parade, as he does every year. The street was filled with admirers who were happy to witness the royal tradition.
However, young Prince George was not so excited to see them, it seemed. A clip of him leaving the viewing box went viral when the camera caught the five-year-old's hilarious actions. 
First, Princess Charlotte is seen with her hand up as she walks out. She waves adorably just as she disappears from sight. Right behind her is her older brother, George, following with both hands down. 
He wasn't in the mood today 😂😂🙈

— The Cambridges (@loveforcambridg) June 8, 2019
Just before he also goes out of sight though, George gives a quick, almost dismissive wave, without even turning around to face the people. Online, royal fans were in tears laughing at the relatable moment from the tot. 
A Twitter user named The Cambridges expressed the obvious: "He wasn't in the mood today [two crying laughing emojis]." While another put it a different way saying, "Prince George is a mood [ crying laughing emoji]."
Prince George is a mood 😂

— JennieM (@JennieMorewine) June 9, 2019
User Isa Guor also retweeted the video and added appropriate dialogue to what happened: 
"Princess Charlotte: bye bye everyone! Prince George: yeah yeah bye [crying laughing emojis]."
Princess Charlotte: bye bye everyone!
Prince George: yeah yeah bye 😂😂😂😂😂😂😂😂 pic.twitter.com/zzrKYh3iN3

— Isa (@isaguor) June 8, 2019
George's behavior may not have been proper as a royal, but people seemed to love him all the more for his realistic action. "I adore them," Nathalie said, wrapping it up with a heart emoji. 
Prince George's "mood" didn't start at the end. The little royal was also captured making some interesting expressions during the event, and they were just as hilarious as his finale. 
At one point, George showed how much he was over the whole thing when he gave himself a facepalm while looking up to see the RAF flypast. Charlotte is seen next to him almost doing the same, but at least she wore a smile.
Prince Louis stayed in his mother's arms and simply looked cute throughout the event. All the Cambridge children wore some mix of blue and white for their ensembles. 
Two years ago, George was again a breath of fresh air when he left the facade behind for Trooping the Color. That year's flypast was when he first saw him cover his eye.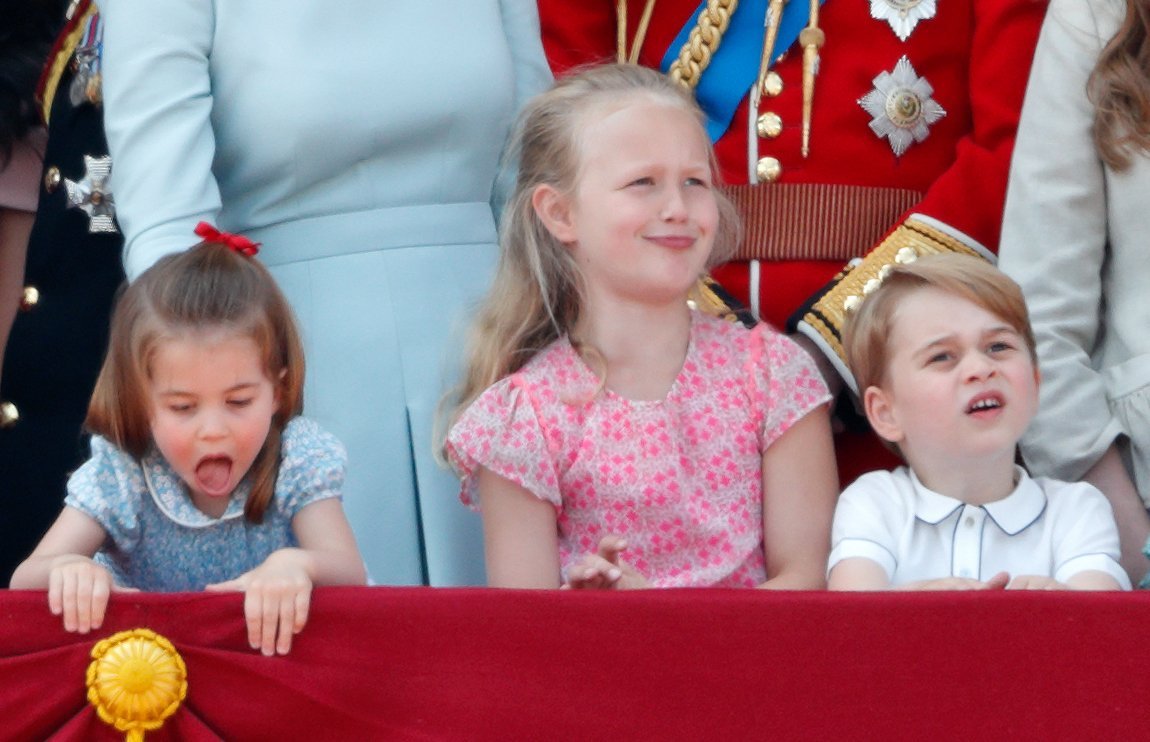 However, George resting his chin on his palm confirmed his extreme boredom with what was going on. His scrunched forehead and unexcited eyes were also telling of how he felt. 
Thankfully, there were at least some moments which the young prince enjoyed. George wore an open-mouthed smile at one point during the flypast, along with his cousin Savannah Phillips who also clapped her hands.  
Trooping the Color is a celebration that has been going on since 1748. It takes place in the summer regardless of when the king or queen's actual birthday is. Queen Elizabeth's own was on April 21.