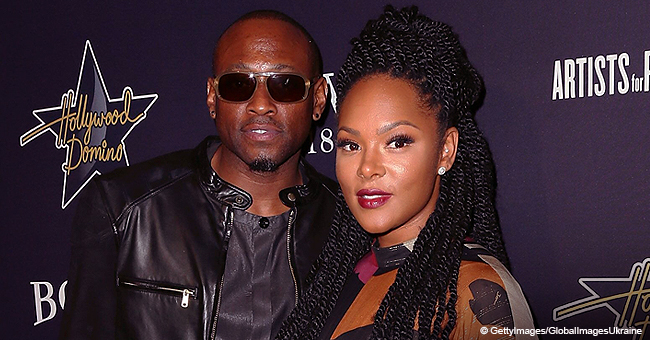 Getty Images
Omar and Keisha Epps' Daughter Turns 15 & Is the Perfect Mix of Her Parents
K'Mari Epps recently clocked 12 and is the split image of her celebrity parents; singer Keisha and actor Omar Epps.
Keisha took to Instagram on June 5 to celebrate her beautiful daughter's birthday. She posted a series of photos which captured K'Mari's growth over the years. There are nine photos in all, but only the first and the last pictures were the most recent with the majority being old baby photos.
In the first photo, the young beauty who exudes confidence as she smiled widely struck a bold pose for the shot. The 12-year-old girl, who is standing with her hands holding a microphone looks very mature wearing a chic ensemble including a neon green shirt, a black skirt, and black boots.
With her hair styled into a sleek straight hairdo, her face sporting minimal makeup and her fingers painted red, K'Mari looked very much like her stunning singer mother.
That didn't escape fans who took to the comments section to point out the striking resemblances between K'Mari and her parents. So far, the photo has amassed about 12,000 likes and hundreds of comments.
Keisha accompanied the shots with a lengthy message as she implored her followers to wish her daughter a happy birthday. Keisha's love for K'Mari couldn't be more evident as she exclaimed that she was "blessed" to have her.
"I couldn't have asked for you baby...impossible. We were just blessed with you. You are a light & such a caring being who's always there to support those you LOVE & sometimes don't even know. Your spirit is a LOVING and delicate one. True. And you're also a true artist- you feel everything. You will learn to navigate that part lol," Keisha wrote.
The "Not Tonight" singer concluded the heartfelt message with a string of hashtags but not before she prayed for and sent a word of advice to K'Mari who is an aspiring entertainer.
"There is a lot that will be required from you. Be prepared my LOVE. You are a special gift!!!! I am so blessed you choose me to be your mom. You chose us. Shine my LOVE- the world is waiting#LuckiestMomInTheWorld #BeautyFromTheInsideOut #TeenLife," Keisha concluded.
K'Mari is the first daughter of Keisha and famous "Love and Basketball" star, Omar Epps who have been together for well over a decade now. The Epps family make for the ideal celebrity family because they seem very normal when compared to other famous families that are usually rocked by numerous problems.
Aiyanna, Omar's daughter from a previous relationship, K'Mari Mae and son Amir, are their three children. K'Mari not only looks like her parents but is also known to be threading the same career path as them.
Keisha is particularly proud of having her daughter inherit her singing talents and has shown great support for the talented youngster. K'Mari is one young lady to watch out for!
Please fill in your e-mail so we can share with you our top stories!