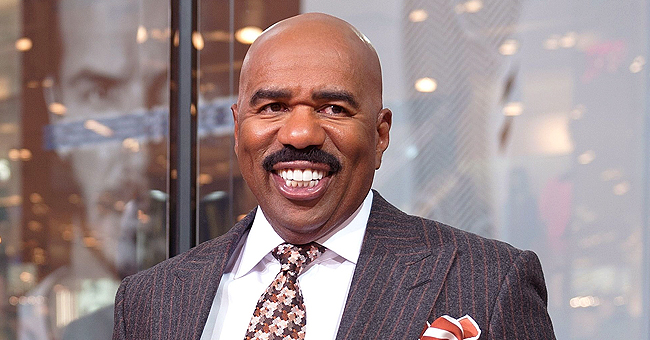 GettyImages
Steve Harvey's Grandson Ezra Is a Curly-Haired Cutie Who Looks like Him in Pics
Marjorie Harvey has been sharing several pics and videos of her grandson Ezra on Instagram, and fans can't get enough of the adorable curly-haired boy.
Steve and Marjorie Harvey are the proud parents of a big blended family, formed by Steve's four children from previous relationships, Karli, Brandi, Broderick Jr., and Wynton; and Marjorie's three children, Lori, Jason, and Morgan.
As the kids have started to branch out and start their own families, the Harveys expanded, and now Steve and Marjorie are grandparents to five kids.
The youngest of them all, little Ezra, has quickly become a social media heartthrob with his puffy cheeks and big doe eyes.
STEALING HEARTS
In a set of pics Marjorie shared showing the boy on Instagram, Ezra stole hearts wearing a Gucci white shirt and staring intently at the camera while being held at his grandma's arms.
His curly hair was tossed to one side, and his gorgeous green eyes caught the attention of fans, who filled Marjorie's comment section gushing about the boy.
"Awww... let me have him! Cute little angel!!! I'm soo in love!" wrote one user.
Another added, "Definitely looking just like his grandfather!"
And a third one raved:
"OMG. He is sooo CUTE. Those eyes and cheeks are everything!!! This baby should be modeling; he is soooo adorable."
GRANDMA DUTIES
Just a few days earlier, Marjorie shared an adorable clip of Ezra starting to crawl as he curiously tried to inspect a garbage can. However, before he could reach it, Marjorie lured him back to her, and he happily obliged.
Marjorie also shared footage of her dog Bear sharing a cute moment with Ezra, and another clip of her walking around the streets of Rodeo Drive with Ezra, accompanied by a bodyguard that caught the attention of many women in her comment section.
"Sorry Mrs. @marjorie_harvey, I didn't realize you were in the video...that man/beast got all my attention. I'm about to watch the video again," one fan joked.
And another agreed, "What's that bodyguard number I need to see something."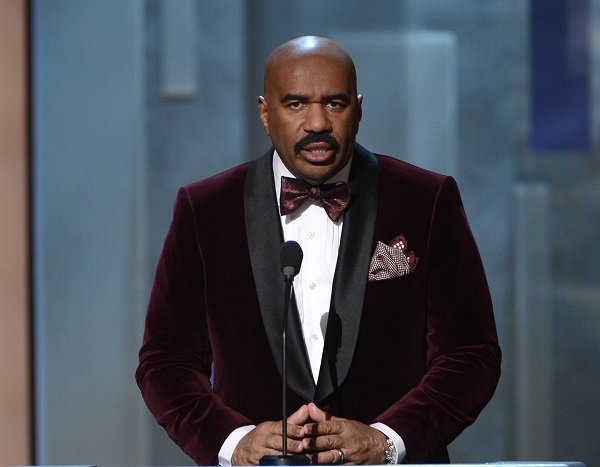 Steve Harvey on February 1, 2013 in Los Angeles, California | Source: Getty Images
STEVE ON BEING A GRANDFATHER
While Marjorie embraces her role as a grandmother openly and with joy, her husband confessed that he's a bit more apprehensive about the idea of grandkids. Steve said on his show:
"I've been waiting years for my kids to get out of my house. I want to be an empty nester. Now they come back to the house, and they got more people with them. They always bring them over and drop them off. And I'm going 'Now, I been talking to my girl all day long. All we been talking about was what was going to happen tonight. Then, I get to the house and here they is!" [sic].
The comedian also addressed the situation with the grandkids on Ellen DeGeneres' show in 2018, just a few months after Ezra was born.
At the time, Ellen asked Harvey how old the boy was, to which he replied: "I have no idea."
And continued:
"I haven't played with him yet. I don't like them when they don't have head control. I don't like playing with kids with no head control. Hold your head — hold your damn head up, boy! You got to put them two fingers back there, and then it slides off. You feel responsible for them."
Despite his jokes, Steve has proven on many occasions he's a doting grandfather to all of his grandkids, and he has nothing but love for them.
Please fill in your e-mail so we can share with you our top stories!