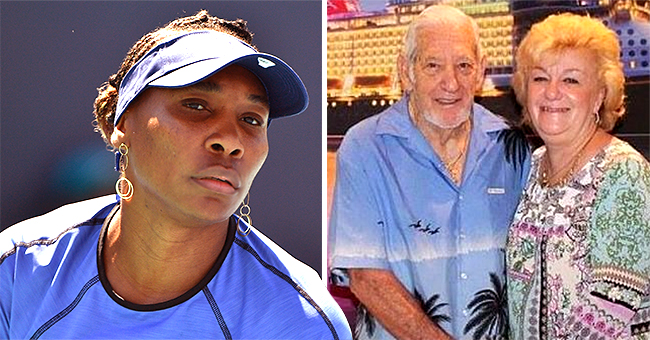 Getty images Twitter/brandilmelb
Family of Man Who Died in Venus Williams Car Crash Sues State of Florida
The family of the man who died after a car crash with Venus Williams is suing government agencies claiming the accident was preventable.
The family of Jerome Barson, the 78-year-old man who died as a result of a collision between the vehicle he was traveling in and Venus Williams' SUV is suing government agencies they consider "responsible."
According to the family, if there had been road signs placed at the intersection the accident would have been 'preventable.'
CAR CRASH WITH TENNIS STAR CLAIMS MAN'S LIFE
Barson was cut free from the wreck and rushed to the hospital after the crash with Williams at a busy intersection in Palm Beach on June 9, 2017. d
His family's lawyers argue if the roads had been properly marked by Palm Beach authorities, the accident would never have happened, citing several government agencies as responsible for Barson's death.
Venus Williams' estate settled with the Barsons out of court for an unspecified sum.
CLAIM ON PALM BEACH AUTHORITIES DOES NOT CLEAR VENUS WILLIAMS
However, Barson's family's lawyer, Michael Steinger clarified that attributing a share of the responsibility to Palm Beach authorities does not clear Williams of negligence in the crash.
"We are in no way claiming Ms. Williams was not negligent in the fatal collision, however we do agree that if the streets had been properly marked as they should be, it would of been a lot harder for Ms. Williams to make the unfortunate mistakes that she did," he said.
VENUS WILLIAMS SETTLED WITH JEROME BARSON'S FAMILY
The Barson family, who had brought a lawsuit against Williams, settled with her out of court in November 2018, but still consider her responsible for the accident.
FAMILY WANTS TO PREVENT MORE TRAGEDIES
The Barsons are suing Palm Beach Gardens, Palm Beach County, the Florida Department of Transportation and the Steeplechase Property Owners Association.
According to the law, states government agencies have to be given six months notice before a lawsuit can be filed, and can only be forced to pay up to $200,000 in compensation for wrongdoing.
The Barson family revealed that the aim of the suit is not to obtain money but to bring around changes and prevent future accidents
VENUS WILLIAMS' CAR CRASH
On June 9, 2017, Venus Williams was involved in a car crash with a Hyundai sedan at a busy intersection near her home in Palm Springs, Florida.
The accident resulted in one fatality, Jerome Barson, who was a passenger in the car that struck Williams' SUV.
Barson, 78, was rushed to the hospital and died 13 days later from the injuries he sustained.
The police considered Williams fault for not yielding for the traffic that had the right-of-way.
The Barson filed a wrongful death suit against Williams, claiming damages for loss of companionship for Barson's wife and their family, loss of earnings, pain, and suffering, and medical and funeral expenses.
Venus Williams' estate settled with the Barsons out of court for an unspecified sum.
Please fill in your e-mail so we can share with you our top stories!