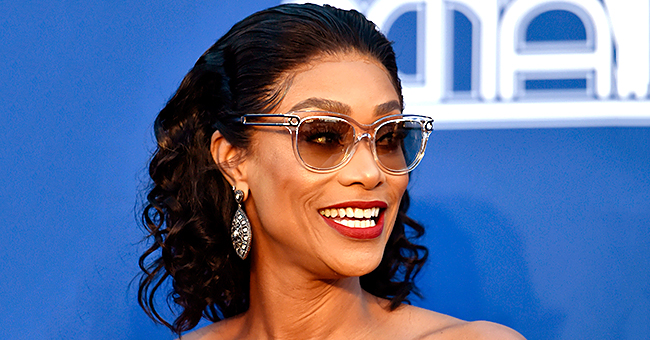 GettyImages
Tami Roman Gives Leggy Display in Plaid Mini Dress after Secret Wedding Reveal
Tami Roman is turning up the heat in new Instagram pics while flaunting her long, toned legs in stylish outfits. News of the reality star secret wedding to longtime boyfriend Reggie Youngblood recently hit the media, but neither Roman nor Reggie have addressed the rumor.
Veteran reality star Tami Roman knows exactly how to keep her audience engaged, and whenever she's not stirring up the drama in the VH1 reality show "Basketball Wives," the 49-year-old is keeping her fans entertained with gorgeous pics of herself.
Some of Tami's recent Instagram posts have left her followers stunned, as she shows off her curves and toned legs with confidence in sexy but not over the top outfits that enhance her beauty.
In one of the pics, Roman is donning a red plaid ruffled skirt and a matching shirt from Fashion Nova, suspenders, sequined ankle stockings, black heels, and a black fedora over a long blond wig.
"You owe it to yourself to become everything you've ever dreamed of... #DreamInBlack," Roman captioned the post.
FANS' REACTIONS
Fans were quick to fill her comment section gushing about the look. One user wrote:
"Gurrrl I had to double take... out here looking better than a butter leather Prada Bag."
Another added, "Damnn girl you serving the legs and the whole look."
And a third one raved,
"Lord Lord, you about to stir up the miserable people, I see why they can't sleep at night, you are on their brain trying to figure you out!"
WEDDING NEWS
Last week, it was revealed through court documents obtained by The Blast that Tami and her longtime boyfriend, Reggie Youngblood, have been married for ten months and have kept their union a secret.
According to the site, the couple got a marriage license in Las Vegas on August 17, 2018, and wed that same day.
Although the couple has shared bits of their relationship through "Basketball Wives" and one season of "Marriage Boot Camp," they decided to keep the news of their legal union a secret.
Looking back, Tami did share a cryptic message on her Instagram one day after the wedding supposedly took place, which read: "The bravest thing I've ever done is learn to stand still and let God MOVE."
DISTRACTING FANS
The news of the wedding possibly wouldn't come as a such a surprise if Tami hadn't mentioned earlier this year that she and Reggie were in no rush to get hitched.
Talking to Entertainment Tonight, Roman admitted that while they had discussed the possibility, there was no need for added pressure into their 5-year-long relationship. She said:
"We've talked about it. We've kicked it around. We're really good. We're in a good place, and I don't think we need to put any pressure on ourselves about having that piece of paper, and when the moment presents itself, we'll jump out there and do it."
It turns out that Roman was already Mrs. Youngblood at the time.
This is Tami's second marriage, as she was married to NBA player Kenny Anderson before their split in 2001. Tami shares two daughters, Lyric, 24, and Jazz, 22, with Anderson.
Fans hope to see Tami's wedding on the new season of "Basketball Wives," which premieres on June 19.
Please fill in your e-mail so we can share with you our top stories!