Comedian Jon Stewart Breaks down in Tears as He Is Given a Coat Belonging to a Late 9/11 Hero
Famous television host Jon Stewart recently received the coat of Ray Pfeifer, a 9/11 hero who passed away in 2017 and with whom Stewart struck a friendship.
Right before speaking in front of Congress on Tuesday, June 11, Stewart met with members of the New York Fire Department and received the jacket with tears in his eyes.
The moment was very special and emotional for Stewart, who teamed up the late firefighter in 2015 to fight for the extension of the Zadroga Act until 2090.
A LEGEND IN THE FORCE
It has been reported that Pfeifer served with the FDNY for over 27 years and was one of the great men and women who sprung into action after the first Twin Tower was hit.
At the time of the terrorist attack, Pfeifer was playing golf with other off-duty firefighters but immediately rushed to the firehouse to get his gear and headed towards downtown Manhattan.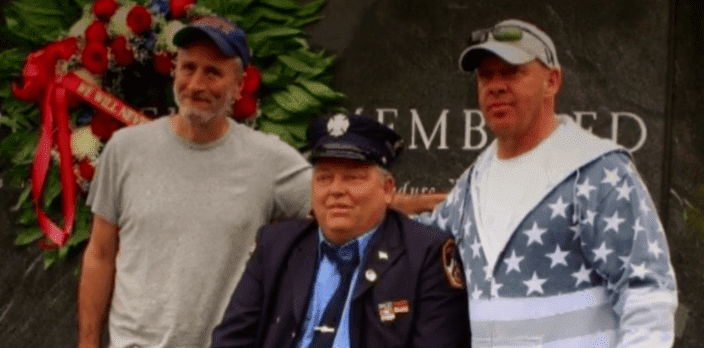 A VERY DEDICATED MAN AND PROFESSIONAL
There, the brave firefighter helped countless people escape the horror, always aware that he was putting his life on the line to make sure others would be safe.
Pfeiffer allegedly slept inside his truck at the firehouse for almost a year following the terrorist attack, just so he could go right back to work, cleaning toxic debris and searching for the remains of the fatal victims.
A HERO UNTIL THE VERY END
Sadly, the late 59-year-old was diagnosed with stage 4 cancer back in 2009. The effects of the chemotherapy weakened him and he eventually suffered a heart attack.
But even after being confined to a wheelchair, Pfeifer never stopped fighting for those who, just like him, risked their lives in 2001, which was how he ended up meeting Stewart.
Despite their short time together, the two developed a special friendship and Stewart even had the honor of delivering a eulogy at Pfeifer's funeral.
The 9/11 tragedy will never be forgotten, nor will those who lost their lives that day. Although the Twin Towers are no longer there, One World Trade Center, also known as Freedom Tower, has now taken their place, standing as a symbol of a nation that doesn't surrender.