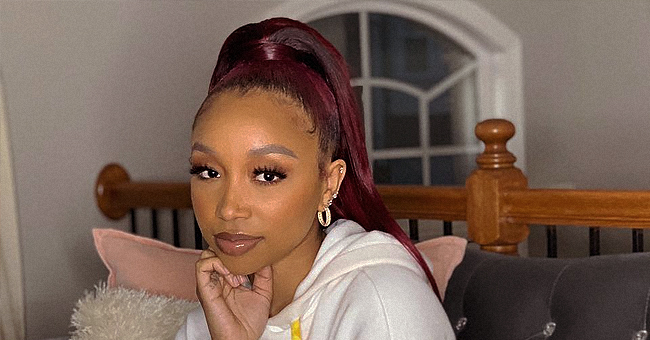 Instagram/zonniquejailee/
Tiny's Daughter Zonnique Shared Never-Been-Seen Pics of Biological Dad
Zonnique Pullins showed her love and appreciation for her biological dad with a heartwarming message on Father's Day. The post took many fans by surprise, as some seemed to believe T.I Harris is Zonnique's real dad.
As many other celebrities out there, Tameka Harris's daughter Zonnique Pullins took to Instagram to publicly congratulate her dads, in plural, on Father's Day.
The 23-year-old is fortunate to have two paternal figures in her life: her biological dad Zoboe Pullins, and her stepfather T.I.
HONORING HER FATHER
Proving that she has nothing but love for the man that gave her life, Zonnique shared a series of never-before-seen pics and a video alongside Zoboe, including one pic her posing with Pullins as a child in an amusement park, and one taken at her half-sister's birthday party.
Zonnique also posted a video where she's seen jumping to hug Zoboe while he talks on the phone and looks surprised at the camera. "This' my daddy y'all, we're twins!" Zonnique says to the camera with a massive smile on her face.
"Happy Fathers Day, Daddy! you know I think we're twins even though nobody else sees it, and the more I get older I see your crazy self in me even though you swear I get that from my momma," Zonnique started her lengthy caption.
"I'm 23 and there's still not a day that goes by that you don't call my phone to hear my voice then tell me I ain't talking about nothing before you hang up lol. Thank you for coming to my rescue for literally anything no matter what time it is! I love you for loving me unconditionally and never letting me forget it! all my love, from your queen B."
FANS' REACTIONS
Fans of the reality star and singer took over the comment section to gush about the post, and some were a bit lost in regards to Zoboe's role on Zonnique's life.
"all this time I thought T.I was your daddy," wrote one user.
Another pointed out: "How many times Nique posts her real father y'all didn't know. anyways Happy Father's Day."
And a third one raved about the resemblance between the daddy-daughter pair saying:
"They do actually look alike. Different complexions but very similar features. You have your mother color, that's all."
THERE'S ROOM FOR EVERYONE
The confusion from most fans is understandable, considering that Zoboe and his family keep themselves out of social media, for the most part, and Zonnique is constantly seen with T.I and her half-siblings on the reality show "T.I & Tiny: Family Hustle."
Despite not having a blood-bond with the rapper, Zonnique also made sure to show how grateful she is for the man that took her in at 5-year-old when he started dating Tameka Harris.
Zonnique shared some pics with T.I and captioned the post:
"There's literally a list of things that you didn't have to do, but you did it anyway...when you came into my life I was the drama queen 5 year old that didn't want anybody around my mom, and you didn't care nun about it, you stayed patient with me through my crazy mean stage. You've always been there for me, and you continue to go to the extreme to keep a smile on my face! I love you forever and ever! Happy Fathers Day Pops @troubleman31."
Fans noticed that T.I gets "Pops" and Zoboe is "Dad," and many people commended Zonnique for being level-headed enough to have room in her life for both men.
Please fill in your e-mail so we can share with you our top stories!